< Go back to skills hub
With good salaries on offer, compelling projects, and an assortment of interesting stakeholders to engage with, consulting can be a valuable but not always spotlighted career choice.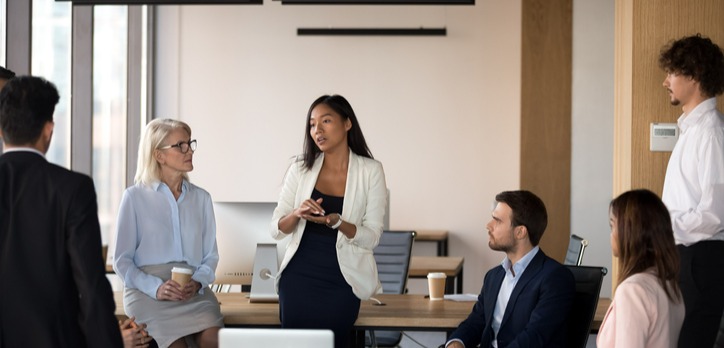 ​
At its most basic level, consulting is simply the act of informed business recommendations led by an expert.
But at its most enigmatic level, consultants are change makers. They can bring an objective view to internal company challenges and help them achieve long-term growth, which can transform a business. Many people laud them as ultimate "problem solvers"; the good ones at least.
In our article, we'll explore the following questions:
What is management consulting?

What does a management consultant do: roles and responsibilities.

What skills should a consultant have?

How much does a management consultant earn?

How to get a job in management consulting?

What qualifications do I need to be a management consultant?

Choosing who to work for
What Is Management Consulting?
Consultants come in all shapes and sizes. They can provide both sector-specific knowledge (such as healthcare, retail, etc.) and/or functional roles (strategy, management, financial, etc.).
Management consultants, sometimes referred to as business consultants, in particular, are responsible for identifying problem areas, liaising with senior members of businesses, and strategising for change.
Because of the contingent nature of the work, consultants typically work for a consulting firm or operate as part of a freelance network like Freshminds. However, larger companies may employ full-time consultants if project work is constant.
Depending on the need and scope of a project or problem, companies may also hire a team or individual consultants to plug in multiple brains to a problem - this is often a fine balance. Typically, consultants will also work with researchers, analysts, and project managers to help align business objectives and stay organised.
The demand and value of consulting are increasing, making it a prosperous choice for prospective consultants, with some project rates hitting £700 per day.
The global consulting industry is worth a huge $180bn, with revenues of £14 billion in the UK alone, as of early 2022.
However, the hours may also be strenuous, you may be required to travel abroad often, and you may have to handle headstrong and difficult stakeholders that add to your everyday stress.
What does a management consultant do: roles and responsibilities
The primary responsibility of a management consultant is to improve a business's performance and help them reach essential KPIs.
This can involve a huge spectrum of tasks, such as;
Liaison with multiple functional groups, such as marketing, finance, and HR.

Analyse data and identify essential patterns and insights.

Identify pain points within organisations, such as tech, organisational structure, and processes.

Know how to strategise for business improvement.

Communicate findings and intentions to c-suite members and other stakeholders.

Lead and manage support teams, such as analysts and researchers.

Mediate internal conflicts that may arise from the change.
Consultants are a valuable resource for clients as they can bring specialised business expertise, as well as an objective point of view.
For example
Identify a problem
A retail company may be losing money and not reaching essential KPIs - why is this? An external consultant might discover through data analysis that customer retention drops on their digital platform, and they might notice that the company are producing more CO2 than their competition which is resulting in bad publicity.
The job of a consultant is to identify these pain points.
Secondly, two senior stakeholders may disagree about which is more pivotal for their retail business, investing in their digital platform to increase positive user experience or streamlining their logistics to improve CO2 emissions. Both are problems worthy of investment, but the budget only allows for one primary project.
Decide a solution
The job of a management consultant is then to decide, through a cost-reward analysis which problem is most important to tackle initially and how viable a solution for 'fixing' them is. They'll have to argue their case with the use of data and a slick PowerPoint presentation.
A management consultant will also have to align key stakeholders to ensure that the solution can be implemented practically, understanding financial cost, resources needed, tech changes, timeframes, and more. Additionally, they'll need to maintain internal relationships and smooth over any potential conflicts.
This, of course, is a simplified version of events. Below represents the lifecycle of problem-solving, as led by a consultant.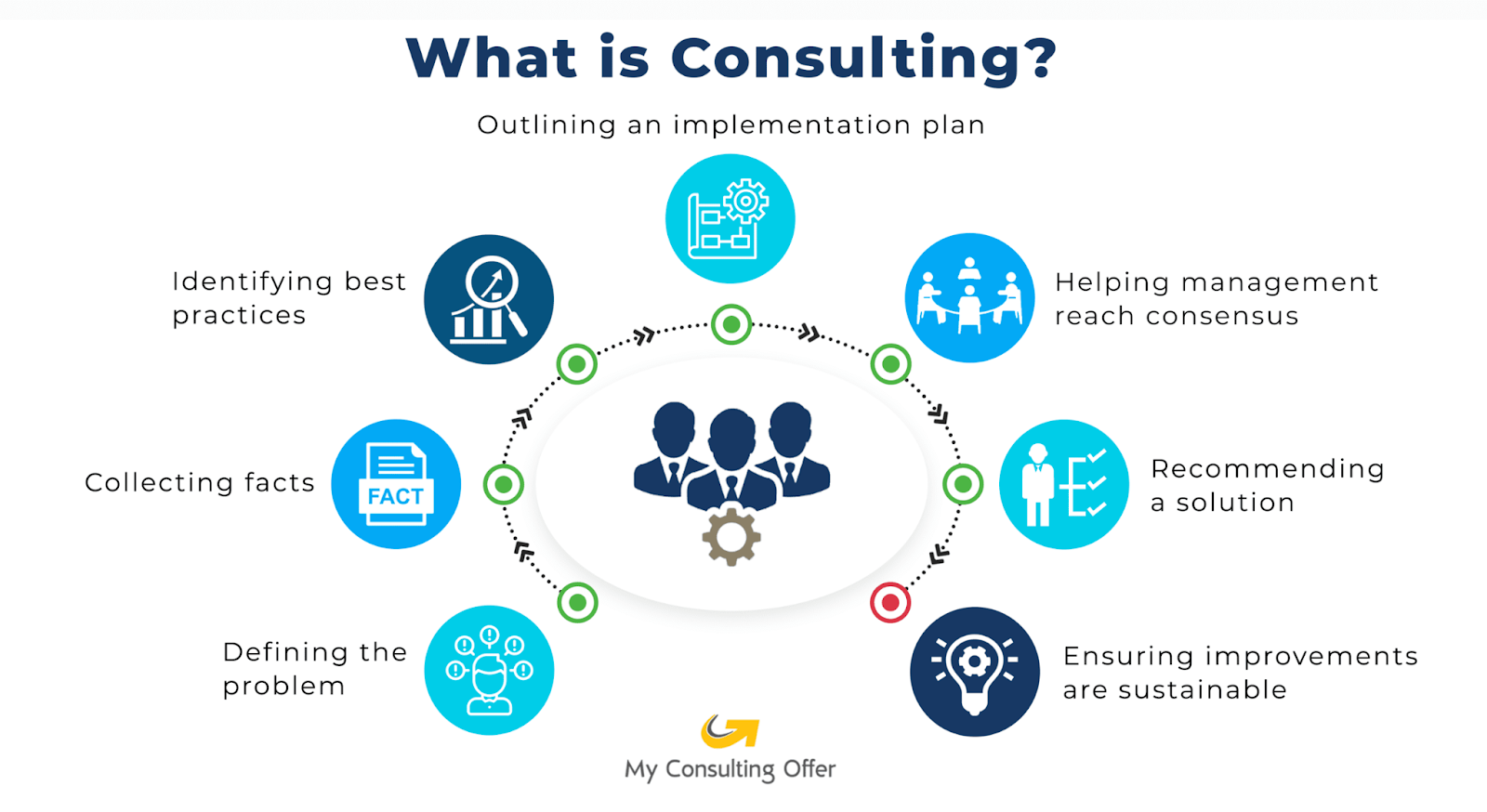 ​
Working as a consultant can be taxing, not only on your time but your energy. You'll have to be resilient to pushback and steadfast in your decision-making.
While full-time consultants do exist in individual businesses, many operate as a non-permanent resource, and you will usually be employed on an interim basis. In this respect, freelance consulting work can be very flexible.
Not only can you choose which projects you work on, but how often you accept those projects and at what day rate.
What skills should a consultant have?
Developing skills is a huge aspect of delivering high-quality consulting work. While some of them will be dictated by your core expertise, e.g. supply chain consultant, many can be embraced as generalist capabilities.
Hard skills
Proposal writing and report writing.

An understanding of qualitative and quantitative data research methods.

Practical knowledge of consulting frameworks and approaches.

Know how to use analytic tools (Excel, Sisense, Python, etc.).

Design and delivery of edited presentations.

A basic understanding of finances (E.g. financial ratios, balance sheets, P&L, cost vs revenue, and more).
Soft skills
Communication: The ability to be tactful and tailor your communication style is highly valuable, especially when you are exposed to various stakeholders. Equally, developing micro-skills such as being succinct, active listening, and nurturing empathy can help improve your overall communication.

Confidence and self-belief: Establishing confidence without the arrogance can be a fine balance. However, it will be difficult to implement real change if you can't deliver an update, strategy, or message with conviction.

Strong EI (Emotional Intelligence): An often overlooked skill set, emotional intelligence only can help resolve conflict, but a show of empathy will establish strong relationships with co-workers.

Exemplary work ethic: As a consultant, you'll be in a position of authority that often requires you to lead by example. A strong work ethic will not only engage respect from your team members but also encourage hard work from others.

Composed: Consulting often means stressful situations, long hours, and tempestuous relationships; composure is essential. If you crack easily under pressure, you can risk the project and also risk your mental health.
Developing soft skills will grant you gravitas and help position yourself as a leader that can be relied upon, trusted, and that you will ultimately benefit the business.
Skills can be developed; that's the positive news. You can be proactive about the skills you want to improve on; for instance, take a leadership course or choose projects that will develop your current knowledge. Additionally, each project will teach you different lessons about what makes an effective management consultant; after all, experience is an excellent teacher.
How much does a management consultant earn?
As mentioned briefly above, management consulting can be a very lucrative career. While average salaries within the UK vary dependent on the research, we've found that between 45k to 60k tends to represent the average salary of a consultant.
However, like many roles, seniority produces a higher salary. A highly experienced and knowledgeable consultant can bring home eye-watering numbers.
"Consulting is an exciting career if you are willing to accept and manage risks, navigate constant change, take on challenging projects, and step outside your comfort zone."Veronica Thraenfor Forbes.
Another aspect to consider is whether you want to work within a consulting firm, a corporate business, or as a project-based freelancer.
Working permanently at a consulting firm will often mean a more structured career path and, therefore, specific salary jumps. However, freelance consultants tend to work on a daily rate which can be extremely lucrative.
How to get a job in management consulting
There are various pathways into the consulting world, no matter if you are an undergraduate or already well-established in another career.
There are typically three core choices when it comes to consulting; you can:
Work for a consulting firm (such as Bain or Mckinsey).

Join a corporate company as a full-time consulting employee.

Become a freelance consultant and/or work with an interim agency (such as Freshminds).
Each will offer different paths for development, and the road to becoming a management consultant isn't always linear. Below, you can visualise what career advancement can look like.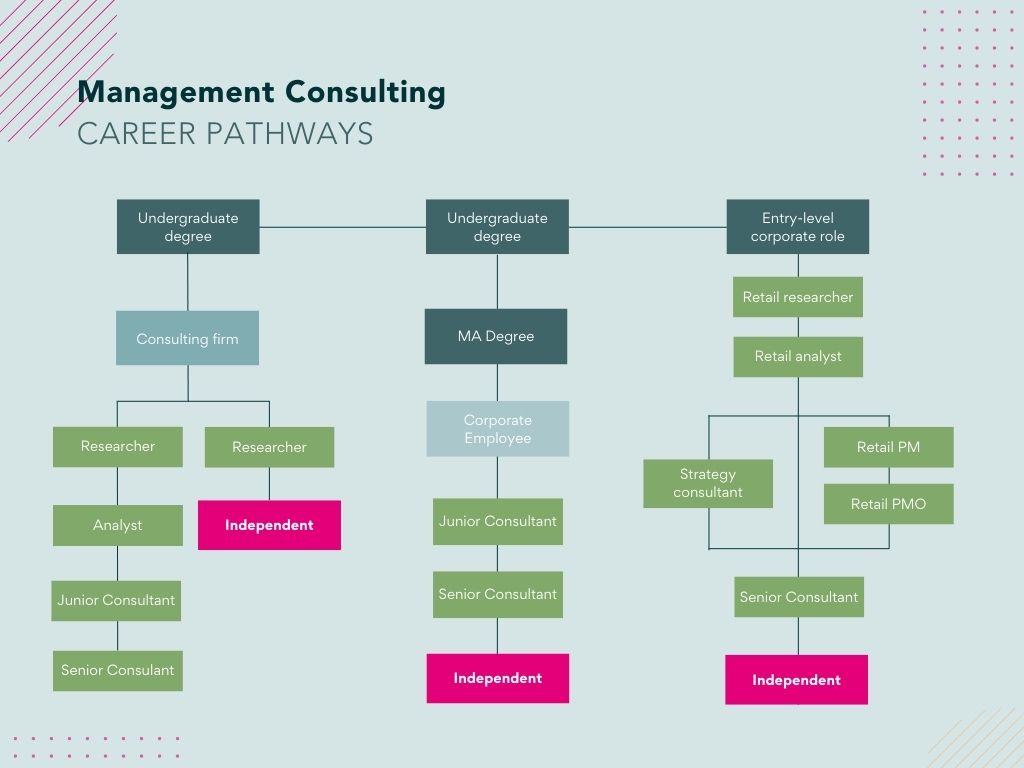 ​
There are a lot of opportunities for consultants at the junior and senior end. However, competition is fierce. Nevertheless, there are a variety of things you can do to help you along the path, helping you to find the best option for you.
Networking: The power of networking can not be understated. The contacts you meet within the sphere of consulting can benefit you in several ways, such as providing you with information on consulting cultures, CV advice, project opportunities, and more.

Developing functional knowledge: You can do this by studying a relevant undergraduate degree, such as business studies. Or you learn from other qualifications from renowned educational companies like CIM.

Developing sector knowledge: Sector knowledge can be developed both inside and outside the consulting sphere. But it can be a huge advantage when applying for roles that desire sector-specific experience, such as management consulting for a retail-heavy portfolio.
As you gain experience, it's likely you'll choose to specialise in a particular industry and develop strong sector knowledge, e.g. healthcare. Additionally, you can develop functional knowledge, e.g. strategy, and master both.
What qualifications do I need to be a management consultant?
Knowledge comes in many forms. However, being able to signpost to specific qualifications on your CV or resume is going to be attractive to prospective hiring managers.
Many firms will require at least a 2.1 result on an undergraduate degree, with the most desirable subjects being;
Business Studies (UD)

Business Management (UD)

Management Consulting (MSc)

Digital Project Management and Consulting (MSc)
But if you don't have any of the above qualifications, don't let that dissuade you. Gaining experience through graduate schemes, internships, and simply engaging with the consulting space can do wonders for your initial entry into the space, no matter if you completed a humanities degree or never progressed into formal education.
However, it's always a good idea to work on your knowledge, especially as it can increase your confidence. There are plenty of courses, aside from formal degrees, that can propel your career. In addition, organisations like CIM and or even free resources like HubSpot will look great on your CV.
Choose who to work for
You will also have to consider who you want to consult for.
Renowned consulting firms like Bain and McKinsey are giants within the field. This means you can work on impactful, high-stake projects for some of the world's biggest companies. However, their teams can be cut-throat, which can generate high-stress environments.
On the other hand, boutique agencies like Freshminds operate a roster of independent consultants who maintain ultimate flexibility. This means you'll be able to choose exactly what projects you want to work on, determining daily salary, length of engagement, sector, and more. And instead of having to chase projects, we do the hard work for you. We'll find exciting roles best suited to you due to our personal onboarding process.
Take a look at the type of roles we have on offer by visiting our jobs page.