< Go back to skills hub
​
Is it respectful to start an email with a recipient's full name? Should I add a colloquial exclamation mark? Have I made the email overly formal with my sign-off?
​No doubt, these burning questions have run through your head while proofreading any professional email, especially if it's a first-time contact.
Whether searching for a job or communicating with colleagues, clients or senior professionals, navigating the world of email has become an art form in the corporate world. Because of this, it is crucial to craft your email communication skills.
There are
4 billion
daily email users
. Thi
s number is expected to climb to 4.6 billion by 2025. (
Statista, 2021
)
For job hunters, before the first phone call or face-to-face meeting, one email thread can cement an impression that could help or harm your career. Similarly, how you come across via email in the office can create a lasting image of how the wider business perceives you.
It's important to emphasise there is no standardised format, style, or tone for every business email - you'll find that these variables should be considered dependent on context and person.
However, there are a few tricks to help you avoid common pitfalls or awkward situations. Here are 5 tips for learning how to write better business emails.
1) Understand Voice: Too Casual vs Too Formal.
Understanding an appropriate tone of voice is only fully unpicked by knowing your audience. For instance, the tone used to email hip start-ups may be wildly different to a first outreach to a strategy consultancy, especially when it is via email communication.
Luckily, a highly digitalised business landscape means there are a few ways to learn about your contacts, such as visiting the official company site and their social pages (LinkedIn, Instagram, Facebook). By doing this, not only can you review their branding style, but you may also see direct evidence of how they communicate to their customers and followers.
However, this isn't a foolproof method. It is possible for tone preferences to vary within one organisation (seniority could impact this), and in this case, it can be tricky to predict how your email will be recieved.
That's why, at least initially, many choose to err on the side of caution, tailoring their tone to high formality and avoiding colloquialisms like 'how ya doing' or anything meme-based.
On the other hand, if you have been communicating with the same contact for a while, don't get trapped in a rigid structure. E.G. writing 'Dear Jonathan' to your favourite recruiter who has always signed off as Jon. Follow their lead in breaking down formality; you are emailing a human, after all.
For larger organisations, you may even have email writing format examples, as well as tone and style guidance. It's worth referring to that every now and again (if it proves to be effective).
2) Get to the Point. Yesterday.
"I hope you are well and enjoying the sweet song of summer along with my salutations as I was wondering about enquiring about…" Stop. There is nothing worse than not knowing the purpose of an email when you are already halfway through reading it.
That's not to say you should avoid pleasantries and small talk altogether. But be clear about your intentions and end with a call to action and sign off, pronto.
Remember, every email requests the recipient to take time out of their busy day to read, understand and reply. Data from Statistica shows an average increase in emails people receive daily.
​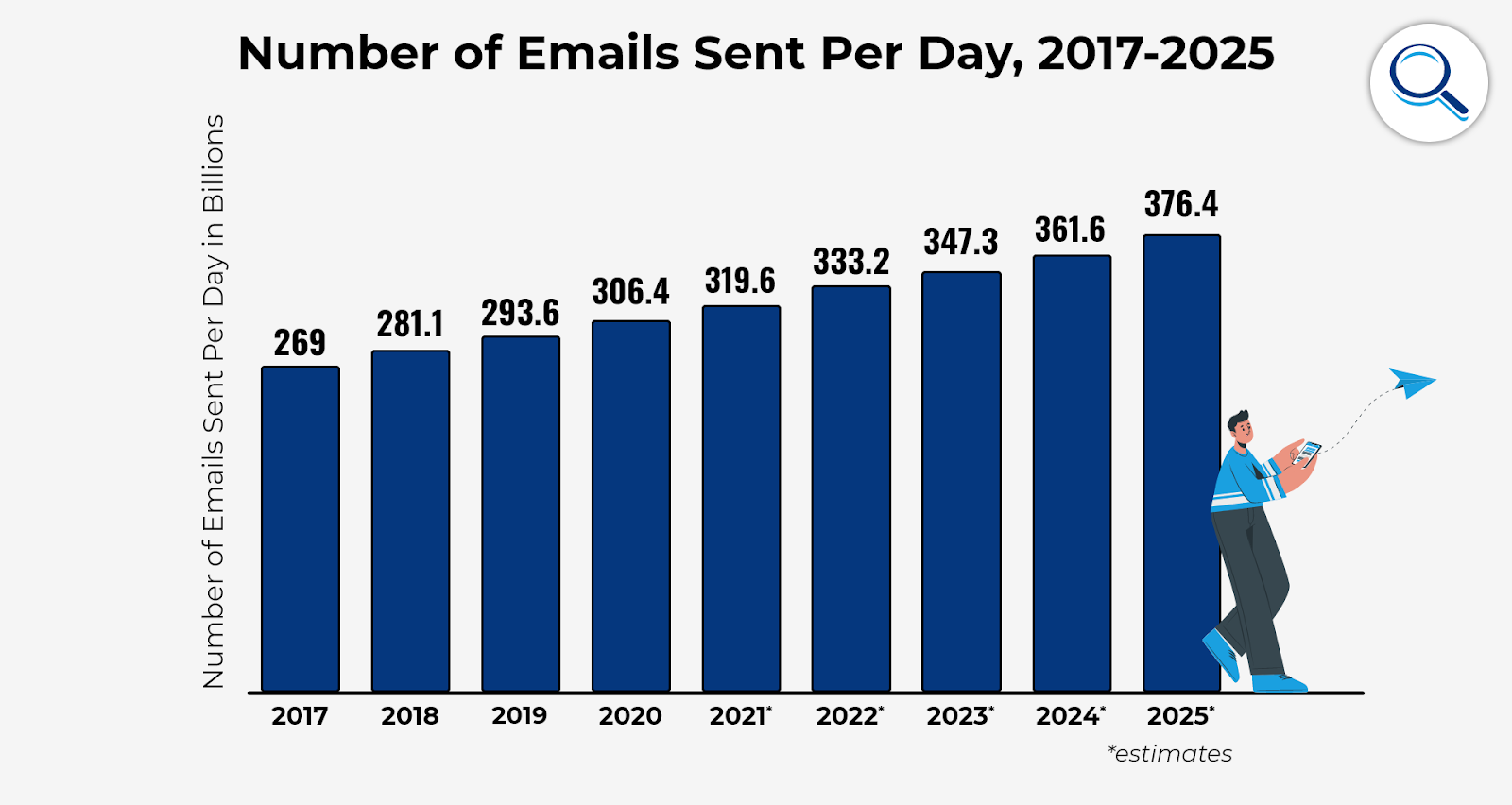 ​
And if you do have a personal comment to add, it's useful to add it at the end where it doesn't distract from the body of the message or not at all; that way, you can learn how to send better emails that land.
3) Be Polite.
There are many tips for email communications, but above all, politeness should be key.
While polite language can be subjective, basic messages that express gratitude and manners are a good place to start.
A lot of writing advice may suggest avoiding hedging words like 'wondering', 'just wanted to' or 'if you could'. However, there's always a time and place for language hedging, and while some receipts may find that a more direct approach is preferable, there are many who enjoy a softer sell using hedging and polite discourse.
The most important thing is to be authentic to yourself. For example, it can be incredibly confusing if your initial messages are full of small talk rhetoric and then your style switches mid-thread to something much more direct and assertive.
Developing your own authentic style takes time, and it is definitely worth investing in, whether privately or by getting feedback from your Candidate Manager.
4) Don't Dismiss the Subject Line.
A subject line is the first impression your recipient has of your email and is a large part of writing effective emails. Not only should it be engaging, but it should offer a real reflection of your email's contents.
Because, after all, you want your emails to be opened and, ideally, at first sighting.
Luckily, there's a lot of data surrounding the effectiveness of language in subject lines. Research from Super Office indicates that the subject line is the second most important reason for opening an email.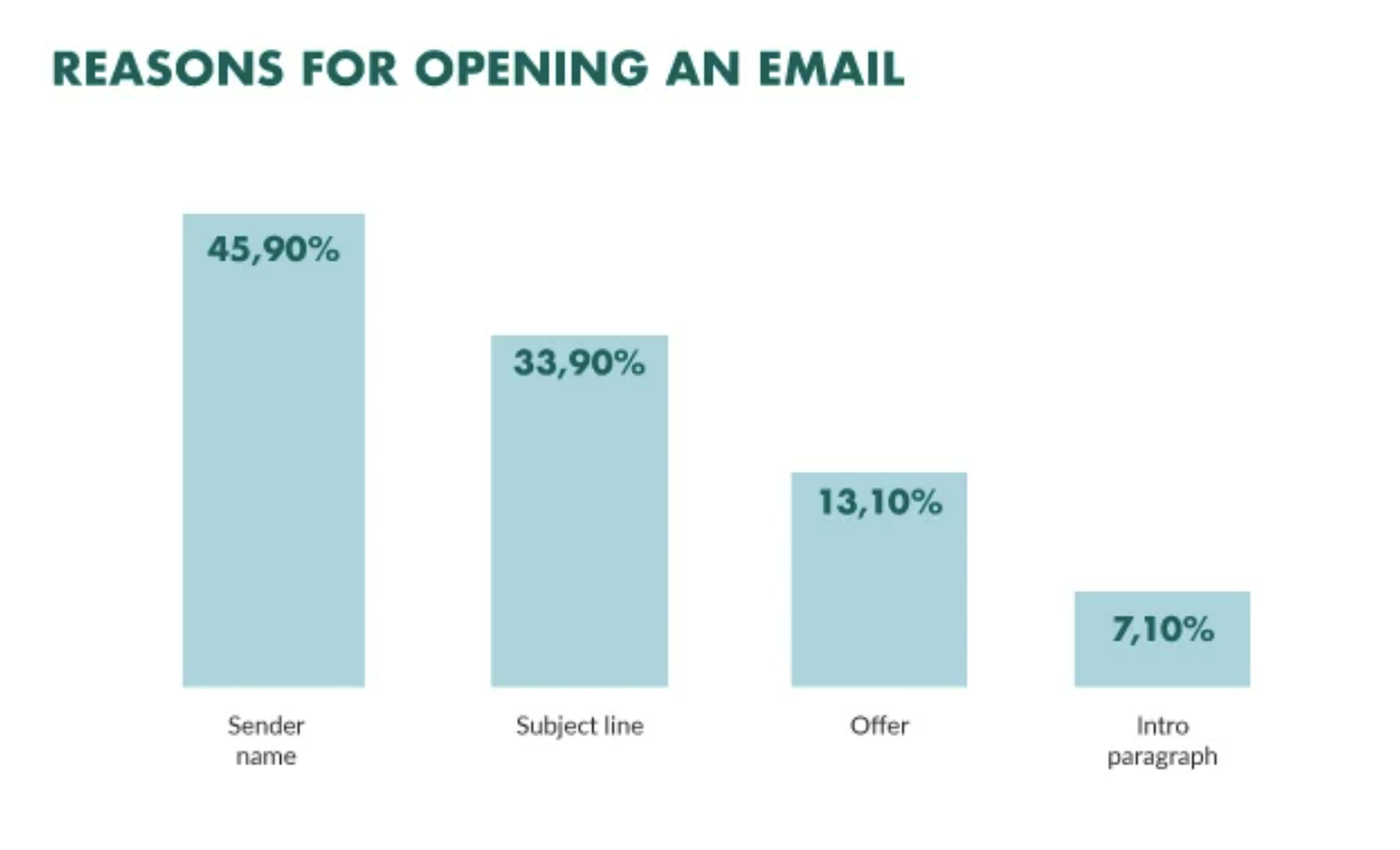 Some ways you can sharpen up subject text is by:
Keeping it short

Ask a direct question

Use action verbs such as expand, consult, advise

Try personalisation
So, whether you need an answer from a client, are asking a question internally, or are trying to sell a proposal, tidy up your subject line.
5) Proofread with Fresh Eyes.
Having gathered opinions from the team at Freshminds, one thing that can never be downplayed is attention to detail.
Spelling names incorrectly (or addressing emails with the wrong name altogether) is never okay and only points to a lack of professionalism. There is nothing worse than receiving three emails due to errors you may have noticed after hitting send.
To avoid this, proofread, read it on your phone to see that the formatting pulls through, or ask a friend to proofread again for coherence. The extra time spent focusing on sending one power email is always appreciated by the recipient, whether they are a recruiter receiving 100+ emails a day or a manager with fifteen other requests in the inbox.
That way, you can always ensure professional email writing.