< Go back to skills hub
​
Six steps to refocusing your job hunt.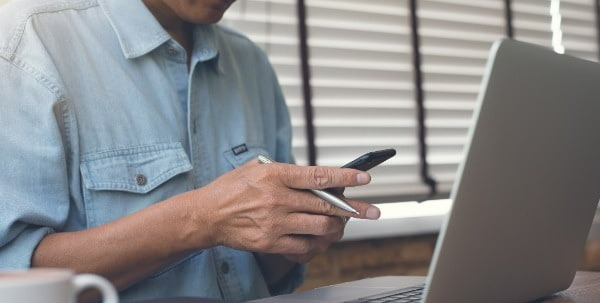 ​
In 2022, with economies recovering from a global pandemic and a rise in digital flexibility, there's no better time for a career evaluation.
You wouldn't be alone, with almost one-quarter of workers thinking of leaving their employment last year, triggering the Great Resignation. So how can job seekers navigate this reshuffle?
Well, increased competition means candidates need to be well-prepared to tackle a job search.
Our article will advise how best to connect with potential employers, present as a valuable candidate, and, importantly, avoid the dreaded job-hunting fatigue.
So, Is Anything Changing in 2022?
For job seekers, the dynamic job market is encouraging news. It means increased personal autonomy and much more choice in terms of working hours and location.
In 2022, we'll continue to see a reliance on digital communication and flexibility. Candidates may discover that social media platforms like LinkedIn can be just as effective for finding advertised roles as traditional job boards. Additionally, with the increase in freelance and project-based work, building online branding profiles or working with a consultancy like Freshminds can be a useful way to promote your services and extend your reach.
We know that looking for a job can be a laborious, time-consuming, and sometimes disheartening process. But, it doesn't have to be.
To simplify the process, we've broken a job search into six key stages:
Focus your career goals

Search for a role

Familiarise yourself with job ad jargon

Research the company

Review your personal documents

Consider a consultancy
While we've approached the above stages as a linear structure, many candidates find a unique and personalised process that works for them.
1)
Focus Your Career Goals
Considering your goals may seem an obvious step. However, job roles have never been so varied or accessible. Important things to contemplate are:
Physical location: Remote, full-time office, flexible.

Work type: Freelance, project, permanent.

Role: Experience level, industry, the skill set needed etc.
Digital freedom means you are no longer tied down to a physical location or rigid set of hours, so carefully considering what works best for your lifestyle is essential.
When it comes to a potential role, it's also important to be realistic but open-minded. For example, look at your experience to gauge whether you are more suited to an entry, mid-level, or experienced role.
However, you don't need to feel pigeonholed to a particular industry. You may have acquired plenty of transferable skills that still make you a desirable candidate.
If you find that attractive roles are asking for skills you don't have, there's nothing wrong with taking the time to expand and develop your knowledge. Many candidates want to know how to find a job fast, but it's more important to consider how to find a job you like.
Is it Important to Use Resources?
For some people, working out exactly what they want is the hardest stage in a job search.
Luckily, from online personality tests to published books, there are plenty of ways to explore the right career for you, as well as practical steps to achieve it. Some of the most popular books for job seekers are:
If you want a practical guide for every stage of the job process: What Colour Is Your Parachute by Richard Nelson Bolles.

If you want to navigate a career change: Pivot: The Only Move That Matters Is Your Next One by Jenny Blake.

If you want an efficient and tech-focused approach: The 2-Hour Job Search, Second Edition: Using Technology To Get The Right Job Faster by Steve Dalton.

If you want to find a career suited to you: Do What You Are: Discover The Perfect Career For You Through The Secrets Of Personality Type by Paul Tieger, Kelly Tieger, And Barbara Barron.
For a more hands-on approach to job hunting, recruitment consultancies can also be a useful tool. We'll explore more about that further in the article.
2)
Search for a Role
Choosing where to search for a role is largely determined by what role you are interested in.
For example, those wanting a full-time role as a publishing editor might use a traditional employment website like Reed. In contrast, those looking for a project-based analyst role may work with a network-heavy company like Freshminds.
Most people use a combination of the following:
Traditional job boards like Indeed or Monster

Social media sites like LinkedIn or Twitter

Recruitment agencies

Networking contacts

Directly through a company's website
As mentioned above, social media sites are increasingly used as a career gateway, most notably LinkedIn.
Not only does the site encourage digital networking and offer an easy-to-use internal job board, but it allows users free design over their profile, ensuring you can promote valuable skills, experience and more.
However, if you are fixed on one company in particular, it's ok to be bold. Alexandra Anton, a senior consultant at Freshminds, explains one great tactic for job searching:
"An effective way of gaining some cut through, even when the company is not actively hiring, would be to potentially reach out to a company you admire/are inspired by and initiate speculative discussions."

How Much Time Should I Spend Looking for a Role?
Everyone is familiar with the exasperation of filling in yet another online job application. Many processes can take 2+ hours, not including the time spent restructuring your CV to suit the role.
Because of this, fatigue is common, and it's easy to become discouraged. However, you don't have to pour every free hour into your job search. Instead, it's about using your time wisely.
Marija, a team manager for research analysts, comments:
"Technology has evolved to allow for tailored searches using refined keywords, and aggregated platforms such as Google for Jobs pulls together adverts from various sources meaning that you don't have to search multiple platforms to find what you're looking for."
You can use technology and services to your advantage, whether that's by allowing boards to notify you when relevant jobs are posted or by signing up to a network like Freshminds.
3)
Familiarise Yourself With Job Ad Jargon
Whether you've been committed to one role for many years or had a career break, understanding a job ad isn't always simple. Some companies can use overly-convoluted sentences, or requirements might seem outlandish.
Most ads will feature the expected technical information such as;
Competitive salary: This may be an encouraging sign that the company offers slightly above average pay. It's worth researching similar roles online to gauge a typical wage. You'll also notice a 'per day' salary for project work.

OTE: On-Target Earnings means you'll receive commission based earnings if role targets are reached. Typically, this term is used within sale roles.

Fixed Term: Used to highlight interim work, this phrase should be followed with the amount of time your role is needed for, such as 1-month or 6-months.

Pro Rata: 'Proportional pay' is often used in part-time work to determine how much you'll be paid in comparison to a full-time salary.
Additionally, you may notice ads often use a variety of abstract qualities they are looking for in a candidate. At first glance, it can sometimes be difficult to understand how they translate in practical terms. Here's a quick breakdown.
Dynamic: Someone who has a positive and resourceful attitude, often synonymous with a "go-getter".

Intuitive: Someone who doesn't need to be directed by management all the time. They can evaluate what task needs to be done and get it done.

Adaptable: Someone who is flexible with their time and attitude; they don't mind flipping from one task to another if one takes priority.

Efficient or fast-paced: Someone who can complete tasks quickly or can find a better solution to a problem.

Team player: Someone with emotional intelligence who can work cooperatively and productively.
Many industries have their own phrasing or jargon; you'll notice this most evidently in the skill section of an ad. For instance, a Bussiness Analyst position may require an understanding of user acceptance testing or government digital service. Hopefully, if it's a job within your experience, you'll recognise and understand these terms.
After a while, you may notice many job posts looking eerily similar. But as long as you know what a company is asking for, you'll know how to deliver it in your CV, cover letter, and interview.
4)
Research the Company
To successfully apply for a role, you need to know who you are applying to. Understanding the identity of a company will help determine not only if it's the right fit for you but how you can approach the application process.
In the age of digital marketing, this has become easier than ever. You can start by reviewing their branding. How do they present? Are they colourful and playful, or are they muted and serious?
Do they use the terms "collective", "team", "family" numerous times on their site? Chances are they highly value teamwork and collaboration.
Specific things you can unpick are:
The jargon used on the site

Branding style

Results from a simple google search

The content they post on social media accounts

Current employee posts on LinkedIn
For a more internal view of a company, look at their "About Us" page or take a peek at their employee roster on LinkedIn. You'll get an idea of company culture, structure, and even the common length of employment, all helpful information you can keep in mind while applying.
5)
Review Your Personal Documents
Candidates should view their CV as adaptable for each new role they apply for.
While the core information will remain the same; education, skills, experience, there are various ways to tweak and mould a CV for a particular role.
If your career path is taking a detour, consider what transferable skills you have and how they will apply in the role. Luiza, head of project delivery for consulting projects at Freshminds, suggests how to structure this, "think of splitting your CV either by industry or functional expertise or a combination of both."

Additionally, this is where your company research really comes into play. Make sure you've read the job description at least twice, take into account who the company presents as, and try to reflect this in your CV.
The trick is showing, not saying.
For instance, if a job ad asks for "an organised and proactive candidate that shows great leadership qualities", find a way to prove this on your personal documents.
You could talk about a past project where you've taken the lead and hit essential KPIs or targets. Or processes you've implemented in a role that has helped streamline a function. Where possible, back up your claims with quantifiable figures. This will increase the authority of your claims.
All in all, employers want to see you can handle and thrive with the potential responsibility.
Additionally, a great exercise is by imagining you're the hiring manager. There's nothing inspiring about reading a generic CV that you know has been submitted for a handful of other applications too.

6)
Consider a Consultancy
It's important to remember that people are always at the centre of a job search. Intriguing data from LinkedIn reflects that:
"According to experts, between 70 and 85 percent of professionals rely on networking for new job opportunities. That means that finding a new job is not as much a function of what you know, but rather who you know. Networking is also a critical resource for tapping into the so-called hidden job market."
But there's a problem. Not everyone has the luxury of knowing well-connected people, and sometimes networking functions remain exclusive and inaccessible.
Luckily, there are numerous ways to access the "hidden" job market.
Working with a consultancy can be a helpful alternative for candidates wanting to expand their connections. For example, at Freshminds, we operate an extensive network of clients, functioning as a bridge between you and your desired role, except we'll do the searching for you.
Our consultants are experts at tailoring candidates with a role that fits their wants, skills, and experience. Find out more about the roles we offer on the Freshminds opportunities board.