< Go back to skills hub
​
Welcome to the job seekers market…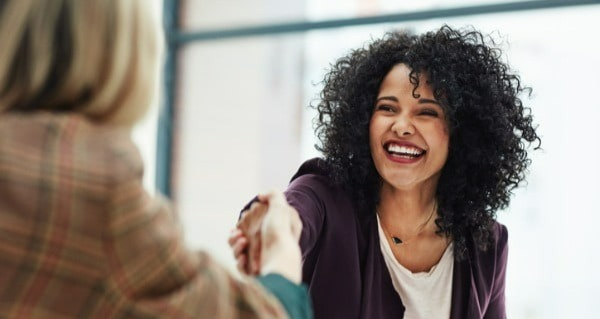 ​
Over the years, the job market has been guided by employment trends and economic needs; 2022 is no different.
Never before have job seekers been more in control as employers search high and low for talent. This shift has been largely exacerbated by the covid pandemic, a mental health drive, and digitalisation.
To take advantage of this change, job seekers also need to adapt.
At Freshminds, we have first-hand experience connecting accomplished candidates with high calibre clients. So, to help you boost your job search, we've highlighted six important hiring trends, helping you to realise your career ambitions.
So, what are the future trends in recruitment?
1)
Expect Zoom interviews to stay.
Whether you love it or hate it, online interviews are here to stay.
While the business world is anticipating a slight increase in in-person meetings in 2022, there's no doubt that the convenience and accessibility of platforms like Zoom still make them an attractive tool for employers.
And for interim work, and of course, remote work, online interviews are likely the only option available for both candidate and employer.
For those going through the interview process, this means navigating awkward silences, unexpected interruptions, connection difficulties, and self-conscious backgrounds.
However, the key to a successful zoom is preparation. Pre-planning where you're going to take your call, having accessible notes around you, and trying to recreate a level of formality through your presentation, may be helpful.
For more great tips on navigating online interviews, check out our related article below.

​
2)
Reconsider work location.
Long gone are the days when your job opportunities were limited to your geographical area. It's time to think big and, apparently, far.
The rise of digitalisation has really altered the employment landscape. Both remote and flexible working have become normalised not only because of the pandemic but because we have the communicative tools to still deliver great work away from the office.
In terms of prospective roles, tech has exploded the realm of possibilities. As a candidate, it's now possible to work for a company 300 miles away or 3,000 miles away. However, choosing to work remotely has both pros and cons.
For instance, it provides physical freedom, which can help save costs on commuting and allow a more flexible home life.
On the other side of the coin, remote working can feel isolating for workers, who may struggle to partake in company culture and find the lack of collaborative office space inconvenient. Also, bear in mind that different time zones mean different working hours, working cultures and tax obligations.
The most important thing is to ask yourself what kind of weekly structure works best for you.
3)
Connect with a recruiter.
Job hunting can be a laborious process, especially if you are transferring to a new industry or role. And sometimes, getting your foot in the door requires some external help.
Some candidates choose to speak to a career's advisor. However, traditional recruiters or a consultancy could be invaluable for those who already know what direction they want to take.
Some consultancies work with a rich network of clients who want to keep their eye on available talent. For instance, Freshminds collaborates with a roster of researchers, analysts, and consultants, many of whom are looking for interim or permanent placements in some of the most reputable firms worldwide, from private equity to the retail sector.
We'll help candidates streamline their career ambitions and connect with roles that often feel out-of-reach when searching independently.
4)
Build on a personal brand.
No, this isn't another episode of Black Mirror; the future of employment really does consist of personal branding. People have become walking, talking, advertisements of their capabilities, so you have to show off a little.
Social media platforms like LinkedIn are hotspot platforms for marketing yourself as a fully packaged candidate. There, you can provide information on your backgrounds like education and previous employments, upload licenses, certifications and even endorse tech and interpersonal skills.
For candidates, this is a really great opportunity to present who are you and, importantly, what you want. Experienced recruiters are likely to scan your profile to check whether you offer the appropriate skills and experience for the role.



5)
Improve your digital skills.
The world has gone digital, and there's no turning back.
No matter what role you are looking for, technology will certainly be involved in one way or another, whether using communication software to connect with clients or implementing an effective strategy through data analytics.
Being more tuned into basic digital skills, as well as those appropriate for your desired role, will be a career help. Digital skills tend to lean towards one of the categories below:
Communication

Data research and analytics

Operational process

Problem-solving tools

Project management tools
Many of the above rely on specific software that automates essential processes within a company. Learning a little more about these digital functions will make you feel less intimidated when you see them mentioned on a job application. Additionally, you can use them on LinkedIn or your CV to present as a well-informed candidate.


6)
Expand your network.
As mentioned above, social media platforms are a great way of presenting yourself as an appealing candidate. But, they have other uses too.
LinkedIn, in particular, is a great networking tool.
Applying to companies online can often feel like throwing your CV into the abyss. However, the platform allows candidates a sharp lens into a company's identity, whether that be branding style or posted content.
Additionally, it gives you an idea of who they've hired in the past. Looking for current employees in a similar role can provide some information on preferred skills and general expectations.
Don't forget that LinkedIn is highly interactive; ask for job advice, comment on shares, and connect with a specific community you're interested in, like consulting. You may be surprised about the opportunities that "pop up".