​The world of consulting is a convoluted place - with new companies popping up every few months, it can be hard to distinguish which is the right fit for your organisation.
Consulting firms can be transformative for a business going through change, whether that be upscaling operations, launching a new product, or adopting new technologies like AI. Being able to lean on an objective and expert set of voices makes change management much easier and much more controlled.
It goes without saying that learning how to distinguish the more effective partners for you is essential.
However, sourcing consulting expertise from larger consulting firms can be incredibly costly. Not to mention that engrained consulting practice can feel inflexible and rigid if you are looking to dial up or dial down your resources on projects.
We explore what exactly makes the "best boutique consulting firm in London".
What's the benefit to your business?
Working with a consulting firm can be a game-changer for businesses and organisations that want to turbocharge business growth and success. It allows you access to a treasure trove of seasoned experts, each wielding a unique superpower in areas like management, strategy, finance, technology, and marketing or overall corporate strategy.
Consulting work can be particularly useful as a way to navigate organisational change, which often takes the form of transformation projects. And while a business consultant in London is not a difficult find - a good one might take you longer to source.
You should look for a company that offers:
Expertise: Consulting firms typically employ professionals with specialised sector or functional knowledge - which you may be lacking in-house.

Objectivity: Consultants can provide an unbiased and objective perspective on your business or specific challenges. They don't have the same emotional attachment to your organisation as internal employees, which can lead to more impartial analysis and recommendations.

Cost Efficiency: Hiring a consulting firm can be cost-effective compared to hiring and training full-time employees with the same expertise. Consultants are typically engaged for a specific project or duration, so you only pay for the services you need.

Scalability: Consulting firms can scale their services up or down to meet your needs. Whether you require a short-term project or ongoing support, consultants can adapt to your requirements.

Speed: Consultants are often able to work quickly and efficiently as they bring experience and established methodologies to projects. This can help your organisation implement changes or solve problems more rapidly.

Risk Mitigation: Consultants can help identify and mitigate risks associated with business decisions. They can conduct thorough assessments and provide recommendations to minimise potential pitfalls.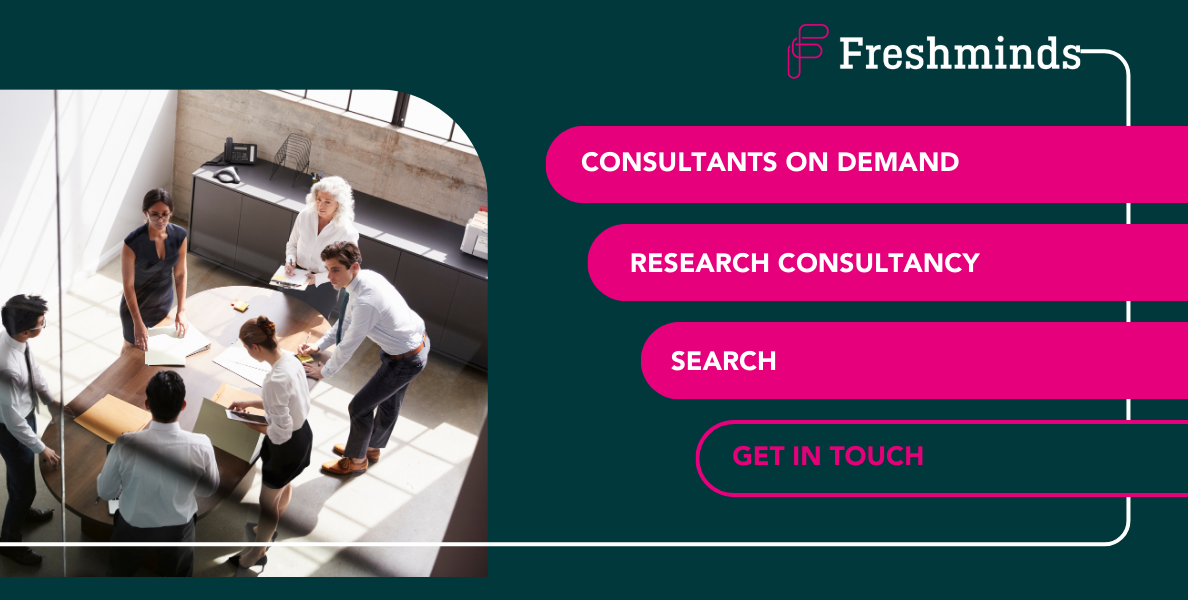 ​
What will the best consulting firms in London look like?
Of course, the best firm for you will depend on several factors - there is no one-size-fits-all approach. You may have to consider your organisation's size, sector, and need (whether that be a digital transformation or change management).
However, there are some qualities that every "good" boutique consulting firm in London will have. Take a look below.
1) They'll have a flexible approach to talent resource
In this economic climate, which is tempestuous at best, harnessing flexibility is an essential way for businesses to avoid risk.
Partnering with a firm that can increase and decrease their talent offering to you is a great option as you can avoid the long-term costs of employing roles like analysts and researchers and instead, decide when you need them on your transformation journey.
For instance, Freshminds operates several policies that enable you to remain agile, such as its temp-to-perm offering. This service allows you to work with a consultant for a limited time before deciding whether you want to employ them full-time - allowing you the space to evaluate their skills, culture fit, and work style.

​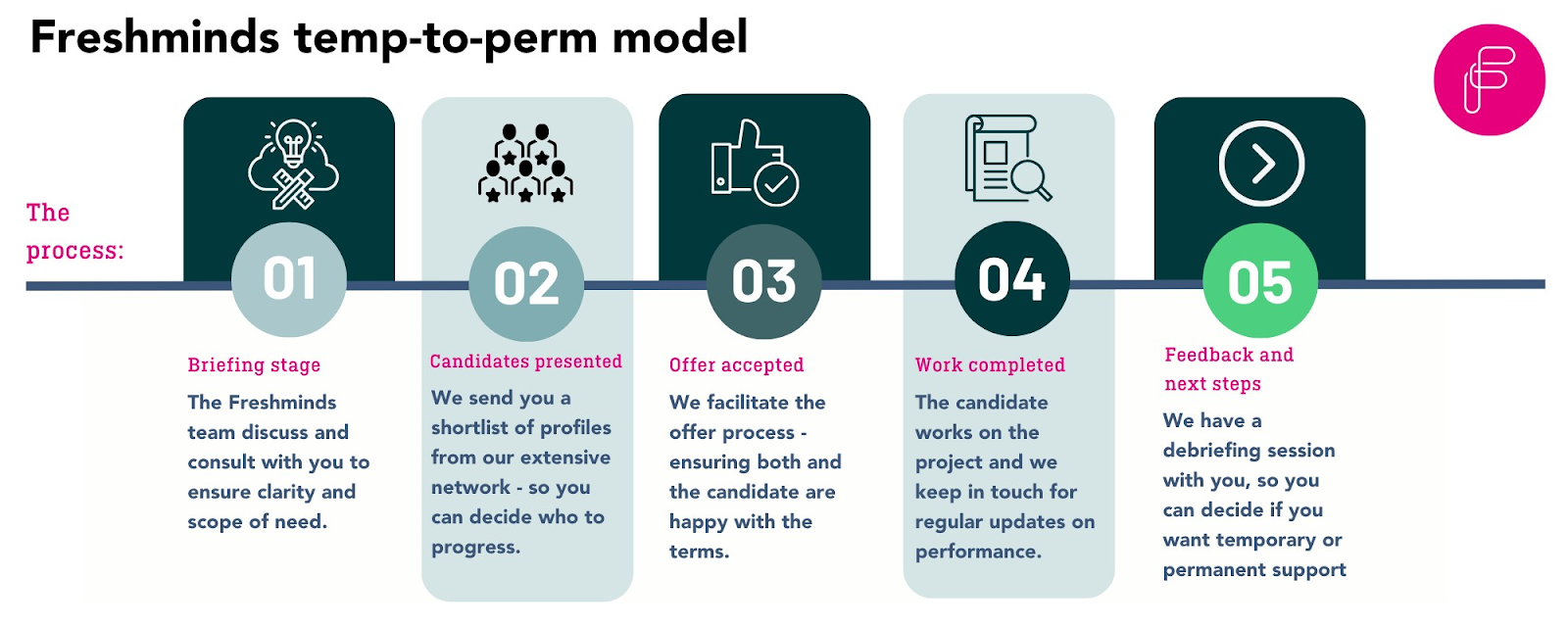 ​
Consulting firms tailor their services to your specific needs and goals, providing customised solutions that address your unique challenges and opportunities.
2) They'll take accountability if things go wrong
Finding new talent for your team is not always a straightforward process. The great thing about finding a talent resourcing partner is that they often lighten the workload by taking responsibility for the recruiting process, which includes:
Understanding the brief

Searching for talent (in some cases, they will already operate an expansive network)

Delivering you a shortlist to ensure your requirements are being met and that there's a good culture fit both ways

Preparing the candidate for their start date

Checking in with you throughout a project or permanent placement to ensure there's been good progress
However, like any professional service, complications can arise.
For instance, from the briefing stage, your requirements may have changed, and so, the shortlisted candidates are no longer suitable. Or there may have been internal budget shifts, a misunderstanding over culture, or unforeseen problems with a candidate.
When you hire a consulting firm, you can expect a certain level of accountability for the outcomes of the project. This can include setting clear deliverables, timelines, and performance metrics.
A good firm will be able to manage the change, and also take responsibility if the fault lay within their remit - ensuring the process can move forward.
3) They'll have been in the game long enough to have an impressive talent network
It goes without saying that when you look for senior consulting support, like a Head of Strategy or Digital Transformation Lead, quality is everything.
While some firms may rely solely on headhunting their talent, others will have been within the game long enough to have developed an impressive talent network. They can connect you with valuable contacts, potential partners, or other resources.
Of course, firms won't always be able to find talent first-hand, but if they can, it means you'll be able to find resources that the firm trusts and get talent delivered quickly.
4) They won't undervalue soft skills
There's more to finding great talent than using a tick-box approach for skillsets and experience.
Soft skills, are also worth considering, especially if you want to retain talent in the long term. These skills are fundamental for effective communication, as they facilitate clear expression of ideas and reduce misunderstandings. Moreover, soft skills like teamwork, adaptability, and cooperation are crucial for fostering collaborative work environments and enhancing productivity and job satisfaction. Innovation and creativity are also vital skills for problem-solving and staying competitive.
Leadership roles benefit greatly from soft skills such as decision-making, problem-solving, and motivational abilities. They enable leaders to guide and inspire their teams effectively.
Given the ever-evolving nature of work environments, adaptability and resilience have gained prominence. Employees who can navigate change and rebound from setbacks are highly valued. Conflict resolution skills help manage disputes constructively, reducing workplace tension.
Final thoughts on the best boutique consulting firms in London
Ultimately, if you are looking for the best boutique consulting firm in London, you'll find there are plenty of options depending on your needs.
For example, at Freshminds, we specialise in sourcing strategic talent, from analysts and researchers to c-suite talent and interim consultants.
"We're plugged into a world of skills, knowledge and experience. By activating our global network of the highest-calibre individuals, we bridge the gap between business needs and required skills for commercial, strategic and analytical challenges."

​