​Since Covid 19, we've seen a dramatic shift in how professional networking works – online networking has become the norm for many of us. And while social media platforms like LinkedIn are fantastic tools for online networking, we also saw a staggering rise in online networking events – webinars, Zoom conferences, pre-event live chats, even open mic nights!
But it's created some debate. Is online networking really as effective as in-person networking? How impactful is it to meet with someone face-to-face? Does it make a greater impression? Let's take a look at the pros and cons of the different kinds of professional networking and what type of events you should consider attending.
The benefits of professional networking
There are many benefits to professional networking. With approximately 1.44 million people unemployed in the UK, the obvious one is that it can help you find new career opportunities.
But there are more benefits to professional networking than just that.
It is also useful to have a network of well-connected people who can provide career advice and access to specialists (these may be inside or outside your field). A professional network can help you to advance your career in many ways, such as:
Help you gain valuable tools and insights into current trends and new technologies.

Build relationships with experienced professionals, which can lead to mentorship opportunities. A mentor can provide advice, guidance, and support as you navigate your career, helping you make better choices and avoid common pitfalls.

Expose you to new ideas, perspectives, and skill sets. Engaging with professionals from diverse backgrounds can help you expand your knowledge and develop new skills that are relevant to your career.

The more you network, the more people know about you and your expertise. This increased visibility can lead to recognition within your industry, making it easier to establish yourself as an authority in your field.

Provide you with a support system of like-minded professionals who understand the challenges you face. You can exchange ideas, seek advice, and share experiences with your network.

Networking is not only about professional gain but also personal growth. Engaging with a diverse group of professionals can broaden your horizons, increase your cultural awareness, and boost your self-confidence.
Why online networking is important
The way we use the internet, both professionally and personally, has evolved rapidly in the last three years. Initially, it was a great tool for keeping in contact with people and making international workplaces possible, but now, it's become absolutely essential for any business to run quickly, affordably, and efficiently.
More and more offices have introduced hybrid working to stay, and with the everywhere office becoming more prevalent, networking needs to be accessible at a global scale – for companies, employees and job seekers.
For businesses, online networking means that talent acquisition can be truly digital. You can access a global candidate database to help fill a role rather than feel bound by a particular geographical location. And thanks to the increase in intelligent, remote tech, your operations won't be put in jeopardy either.
Equally, for candidates, the world is your oyster (at least with companies that are hiring remotely). You won't have to sacrifice location freedom for a job if you connect with the right people and organisations that embrace a remote ethos.
Forbes conducted a study in which they asked people their top benefits of using technology for networking;

92% of participants

said it saved them time, and 88% of people said it saved them money.
You can read more of the data from Forbes' study below.
​
Online networking is, of course, more inclusive. If you are a parent, have a disability that makes travel challenging, live in a more remote location, and many other scenarios it's much easier to log into a Zoom link than travel to a physical event.
So, it's not only beneficial for connecting with people you wouldn't typically cross paths with, but it's completely accessible, too.
Best online networking events for professionals
Which online networking event is right for you will usually depend on which industry you're in. However, there are ways to find events in your sector without constant research. Websites such as Eventbrite list all upcoming online events so you can pick and choose what's right for you.
Additionally, the trade association of whichever industry you are working in, from law to consulting, will provide lists or recommendations of leading industry events.
There are options such as IWant2Network that run multiple events catering to different industries – holding some events online and others in and around London. There's also Unpretentious networking that holds various online events around genuine, honest networking.
While online networking can be a fantastic tool and makes networking accessible to a much greater portion of the population, at a much greater scale, can it ever live up to in-person networking?
Why in-person networking is important
You want trust, credibility, and freedom to circulate through an event; some would say that in-person networking offers these things in greater abundance than virtual meet-ups.
There are benefits to meeting someone in real life that you just can't replicate in a virtual environment. In Forbes' study, they also asked people about the pros of in-person networking as opposed to online networking. 85% of participants said it allowed them to build stronger and more meaningful relationships, with 77% of people saying it gives you a better opportunity to read body language and facial expressions.
Equally, it's easier than ever to quickly jump on a webinar you've just seen advertised on LinkedIn, commit to a 10-minute sales chat, and participate in a company-wide meeting – in essence, we have a lot of virtual calls. Because of its ease of use, are we struggling to remain present while online?
Digital communication is a valuable tool, but it could be better suited to work discussions rather than small talk. People participating in the Forbes study seem to think so. Find more data below.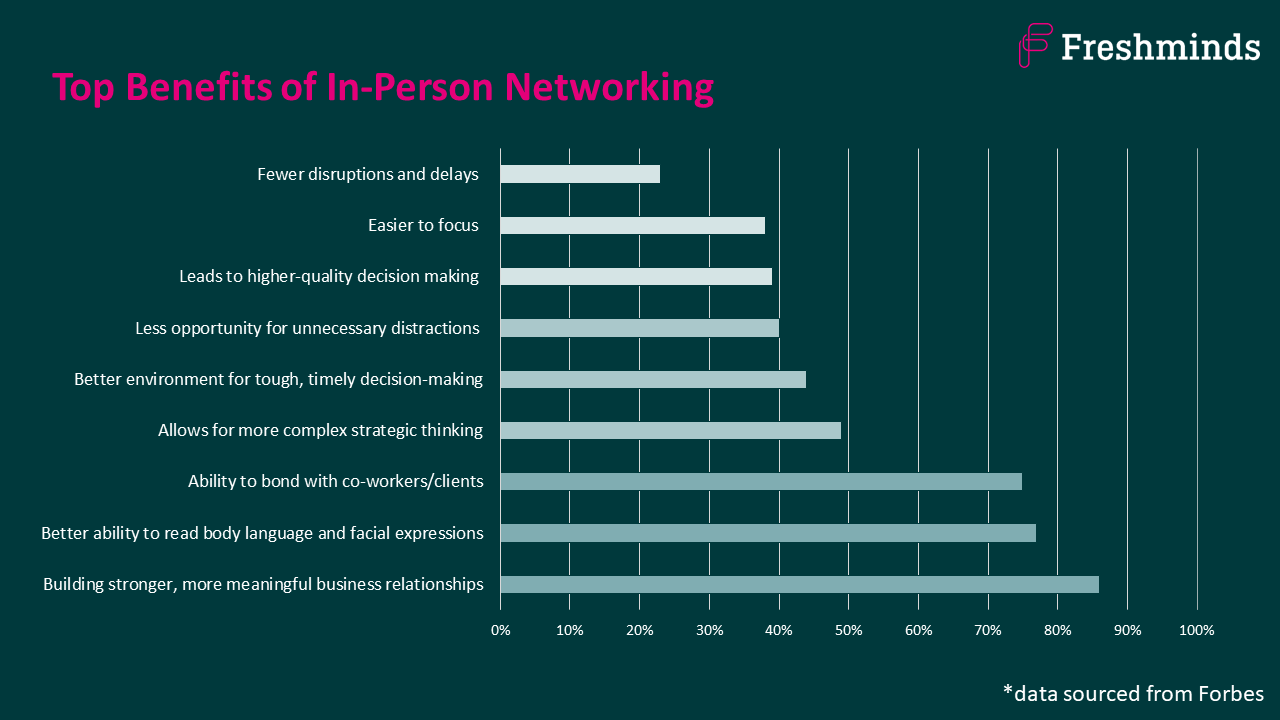 ​
Best in-person networking events for professionals
Once again, which events you want to attend will depend on your industry, but there are some great in-person networking events running across the UK. We take a look at some of them below.
For people working in Tech
The LNETM runs London Enterprise Technology every year – a meet-up that helps companies and entrepreneurs with new and early-stage technologies. They wanted to create an environment where people could network but also learn from one another.
For Strategy
Pre-Covid, an event run by Freshminds called StratFest would bring together an impressive roster of speakers, including commercial directors, strategy directors, and partners – drawn from FTSE 100 corporates, retail banks, investment banks and private equity firms. Contact us for more news on the next StratFest and other networking events!
For Finance and Private Equity
Learn from the best to be the best. The Annual Private Equity Europe Forum is the leading investor-centric event for global PE markets. In this one-day event, you will " discuss sectors, due diligence, and private equity investment opportunities in Europe and around the world." But be prepared for a high price tag.
For Work Trends
For any business, understanding emerging work trends and shifts is essential. Stay up-to-date on data and conversations happening in seats of power by ensuring you attend conferences from authoritative sources, such as Digital Transformation.
You can find more networking events closer to your experience and interests by looking at Google Events.
Final thoughts on online networking vs. in-person
While online networking is an essential tool for 2023 professionals, there's still something to be said for in-person events. In-person events provide valuable opportunities for face-to-face interactions, fostering deeper connections and a sense of genuine camaraderie among professionals.
They also offer us a break from the digital world, where we spend so much of our time behind a screen during our work day. They allow us to engage more fully in the present moment and immerse ourselves in the shared experiences of the event. However, the accessibility of remote networking cannot be ignored.
Whether you're at the start of your career or already established and seeking to cultivate more valuable connections, you can derive benefits from both in-person and online events. The question is, what lies next?
Virtual and augmented reality may play a significant role in immersive remote networking experiences. Additionally, data security and privacy will remain paramount, with enhanced encryption and cybersecurity measures in place to protect personal and professional connections.
The integration of artificial intelligence could also revolutionise networking, providing personalised and proactive networking suggestions. While we can't predict every detail, networking in 10 years will likely be more dynamic, efficient, and technologically advanced than it is today.