​It's only taken a global pandemic, an unsettling European conflict, and a myriad of natural disasters to demonstrate the vulnerability of commercial supply and demand.
And in this capricious economic environment where we keep asking, "What next?", surely supply chain resilience is the name of the game. From AI optimisation to strategic investments in renewables by logistics companies like Segan, there are clear points of interest.
Amazon builds its green supply chain functionality, and logistics company Segan upgrades its warehouse function

The AI race for optimisation in companies like Proctor & Gamble

The electronics sector bouncing back from parts shortages and learning to shift left

Acquisition trends within the logistics sector
In this article, we investigate exactly how companies are fortifying their supply chain security and strategising for growth in an uncertain world.
What's driving change?
Over the last few years, Supply chains have transformed significantly, driven by digitalisation, e-commerce, and sustainability concerns.
Technologies like IoT, AI, and blockchain enhanced visibility, while e-commerce and DTC models reshaped strategies for faster, personalised fulfilment. Sustainability pressures urged eco-friendly practices and transparency as resilience efforts addressed disruptions from events like the COVID-19 pandemic.
Localisation and nearshoring gained traction for agility, and collaborations among stakeholders improved coordination. Labour changes spurred automation, while regulations and demand volatility required adaptable strategies. All in all, the change drivers are dense.
It seems that organisations are being chased by 3 core structural forces:
Emerging tech

Acquisitions

Profit margins
Overall, supply chains will need to embrace technology, sustainability, and flexibility to meet modern challenges.

​
1) Amazon gains authority as an SC service provider
At the core of Amazon's transformation journey lies its commitment to ambitious sustainability goals.
Amazon isn't indifferent when it comes to safeguarding its future operations. It recognises that global standards are changing, with more pressure on organisations to reduce their carbon footprint and invest in renewable energy.
"Starting next year, Amazon is taking proactive steps by updating its Supply Chain Standards that will mandate regular reporting of emissions data and set ambitious reduction goals," comments Forbes.
But investing in sustainability has become more than a self-gratifying slogan - Amazon is using it as a valuable branding tool, where they can become leading, responsible corporate citizens, and make a profit too - especially when they invest in supply chains.
It means that they can help mitigate risks, such as:
Ethical concerns within the supply chain

External disturbance to supply chains, whether that be an environmental emergency or social conflict

Policy changes in national governments, which could include restrictions on carbon emissions
Part of risk management is also innovation. By investing in their supply chains, Amazon can also ensure they adopt new technologies that increase efficiency while remaining agile to consumer demands.
For instance, Amazon boasts an impressive fleet of over 15,000 hydrogen-powered forklifts within its North American fulfilment centres—merely a glimpse into their sustainable initiatives.
"By transitioning to electric delivery options, the company aims to reduce emissions and promote sustainability within its transportation infrastructure significantly."
Of course, it helps that Amazon has extensive resources and vision that enables them to fundamentally change their processes, from product development to logistical operations.
Logistics company Segan upgrades its warehousing
Amazon isn't the only company making changes to its supply chains. Renewable distributor Segan is also embarking on a transformation project aimed at modernising its warehousing and transport operations.
Director of Segan, David Rice, talks about a vision of "driving efficiency and sustainability improvement through innovation".
Central to this project is Segan's focus on its current warehouse infrastructure, which involves the consolidation of its operations into a singular 265,000-square-foot distribution centre situated in Medway, Kent. This strategic move should yield a notable reduction in carbon emissions, as goods will no longer need to be transported between multiple sites.
Segan also aims to elevate its warehouse management capabilities through cutting-edge technology, ensuring meticulous product selection and packing procedures, ultimately enhancing the service provided to its customers.
We've seen a lot of interest from storage and warehousing companies, looking to expand their operations and take advantage of new purpose-built real estate.
2) The AI argument for optimisation
The integration of technologies such as the Internet of Things (IoT), Artificial Intelligence (AI), blockchain, and advanced big data analytics has ushered in a new era of enhanced visibility, efficiency, and optimisation across the supply chain landscape.
In fact, AI implementation is fast becoming a staple, particularly within consumer-centric enterprises. Leveraging historical consumer data, social media trends, and contextual insights, AI empowers these companies to forecast and glean insights into future product popularity and preferences.
As Yossi Sheffi, a respected voice in the field, and the Director of the MIT Center for Transportation and Logistics (MIT CTL), says,
"One of the things that the new AI can do is not only analyze numbers, but also look across the internet at demand patterns, based on text, videos, or weather patterns, and connect a lot of these dots and come up with forecasts."
Companies like Procter & Gamble are already utilising smart tech in all aspects of their supply chain, from using it to detect product defects after manufacturing to tracking distribution networks in real time so they are aware of product delays.
Models, like the one below, are just an example of how symbiotic the relationship between supply chain management and AI can become. ​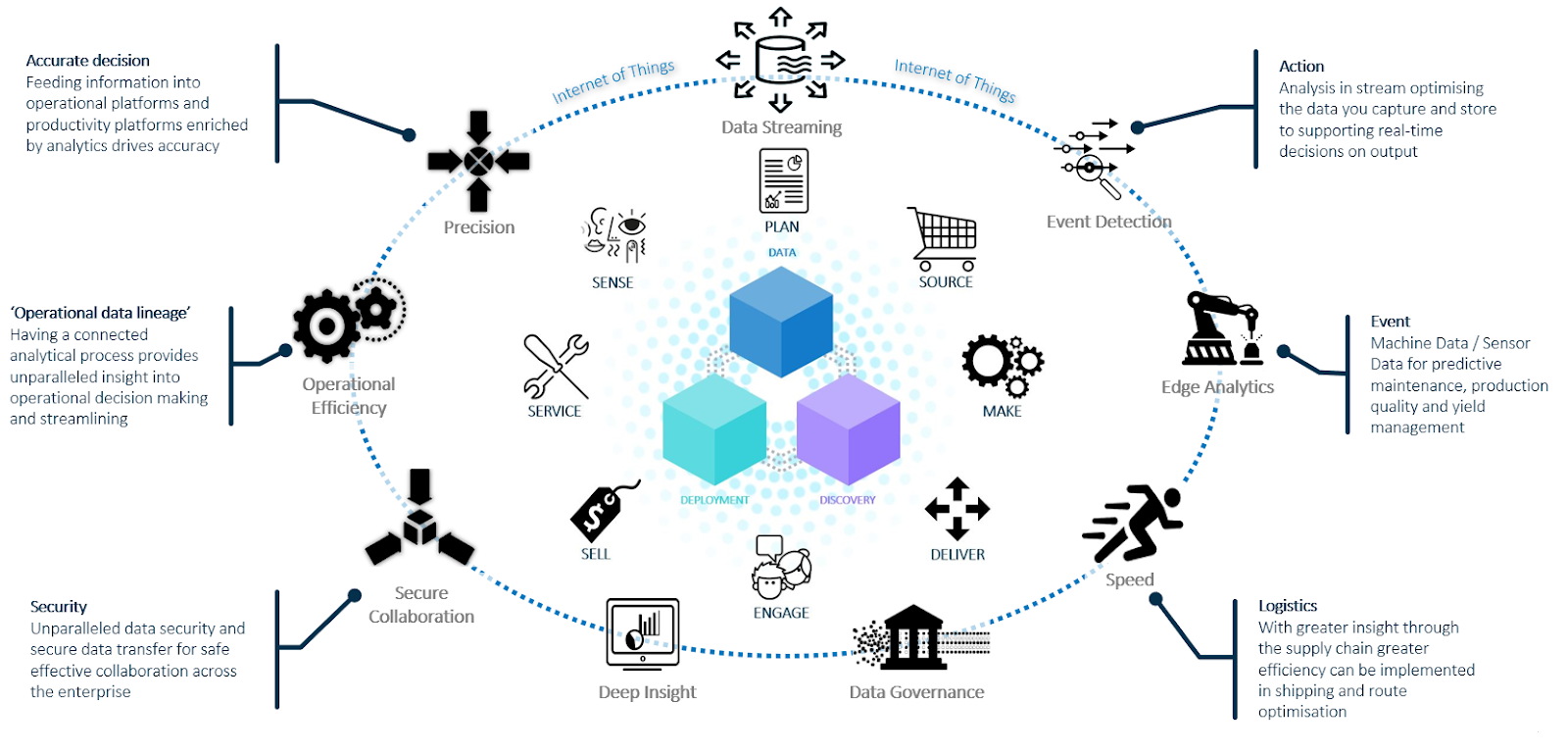 ​
Notably, companies like Kinaxis AI are taking the lead on delivering "smart" AI supply chain planning as a Software as a Service (SaaS). They facilitate end-to-end supply chain management through their comprehensive platforms and data dashboards.
And having recently partnered with the car manufacturer, Subaru, their goals are ambitious when it comes to becoming a corporate partner within global operations.
3) Electronics supply chains are learning to shift left
Is it better to be proactive rather than reactive when it comes to supply chain management?
The last few years have truly tested the resilience and foundations of global supply networks. We've seen critical parts shortages for products such as semiconductors and electronics components, which has led to a devastating loss of profit (as noted below by Forbes).
"

We estimate that over the last three years, companies lost a total of $1 trillion in revenue due to the global chip shortage.

"
In order to stabilise this uncertainty, some trends show greater investment in reshoring or friendshoring (the act of choosing your supply chain networks based on economic or political allies) in an effort to deglobalise in an increasingly unpredictable world.
Could "shifting left" provide a remedy?
The concept of "shifting left" is more of a human, rather than a product management tool, and simply put, means spending more time building something rather than fixing something. It's gained popularity and traction in various industries, including software development and supply chain management.
And many organisations have recognised the benefits of identifying and addressing issues earlier in the process to improve efficiency, quality, and overall outcomes.
In the context of supply chains, the idea of shifting left aligns with the broader trend of improving visibility, agility, and risk management in the development process - rather than spending time fixing predictable disruptions down the line.
It's about being proactive rather than reactive, which can lead to cost savings, better customer satisfaction, and enhanced competitiveness.
4) The logistic companies winning big in acquisitions
Over the last six months, the acquisition market has displayed a tendency towards caution, resulting in a decreased number of transactions compared to previous periods.
However, a perceptible shift is happening, and many are optimistic about an upturn in deals. So, will inorganic growth opportunities become a core driver in the Logistics sector?
The Culina Group is one example of this. In January this year, The Culina Group entered an agreement to take over International Road Ferry (IRF) - a major player in the transport market. Not only has this helped them strengthen their position within the European Logistics Sector, but it means they are able to standardise their operations and customer service.
Navigating the pre-acquisition landscape can prove intricate; it involves a delicate orchestration of variables that span from due diligence and financial assessments to strategic alignment and risk evaluation. But when done right, it can be an invaluable growth strategy.
What's the way forward?
All in all, building a future-proof supply chain necessitates a dynamic fusion of innovation and resilience.
Agile strategies must intertwine with sustainable practices to mitigate environmental impact, AI to increase efficiency, M&A activity to consolidate geographical areas or processes, or strategic thinking.
Often, the hardest part is determining which direction to take - that's where we come in. Freshminds combines our resourcing abilities and an extensive network of experts with an agile in-house research consultancy team, allowing you to receive strategic insights and bespoke recommendations.
For more information, get in touch with our team here.