​As technology advances and consumer expectations rise, it's crucial for retail and consumer brands to understand and adapt to the ever-changing needs of their customers.
Nowadays, consumers are more discerning, and they place as much value on a brand's purpose as they do on its pricing. They are also shopping more consciously than ever, seeking out brands that align with their values.
Brands that wish to thrive in this competitive environment must be able to meet the needs of their customers and build lasting relationships with them. This responsibility should be held across the organisation. However, the Chief Customer Officer or Chief Marketing Officer would ideally be accountable for the overall customer lifetime value.
But should brands be more focused on customer acquisition or retention?
Acquiring customers vs retention
According to Outbound Engine, acquiring new customers can be up to five times more costly than retaining existing ones. Although customer acquisition is essential for growth, focusing on customer retention is key to recession-proofing organisations in today's climate.
"
By increasing customer retention by just 5%, brands can enjoy an increase in profits ranging from 25% to 95%.
"
To achieve this, brands must establish a strong connection with their customers, turn them into loyal fans, and increase customer lifetime value. This can be done by developing a roadmap to customer centricity that includes clear propositions for internal engagement, external engagement, and customer engagement.
By prioritising these three areas, brands can build lasting relationships with their customers and enjoy long-term success.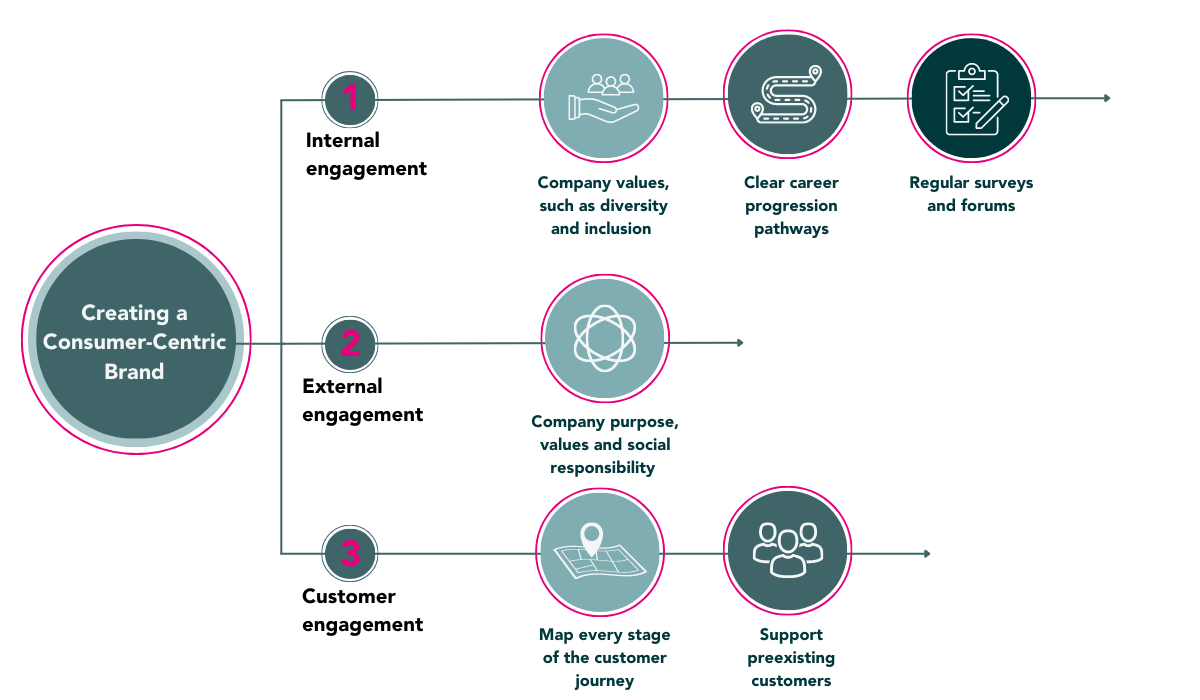 Internal employee engagement
The roadmap begins with internal engagement, which involves building an organisational structure that prioritises diversity, inclusion, and employee-first values. Brands that focus on creating a positive internal culture are more likely to have happy and motivated employees, which will translate into better customer experiences.
This should include an inclusive talent acquisition strategy where the customer base is fully represented by the employees. Clear paths to career progression, fair and equitable remuneration and employee empowerment are also effective ways to engage employees.
The well-being of staff should be a priority for employers, and it is something that customers care about as well, so it is critical to personal and organisational resilience. Ongoing management of employee engagement through regular pulse surveys and employee engagement forums. Again, this accountability should be held across the Heads Of in the organisation, with the Chief People Officer ultimately accountable for meeting clear KPIs.
External engagement
External engagement is the next step and involves developing a brand purpose, values, and social responsibility.
Customers and young talent alike are drawn to brands that stand for something and are socially responsible, so it's crucial to communicate these values and progress against targets to the public. All decision-making should be based on these values - this is not easy, but any disconnect from the values risks alienating employees and customers - brands need to be walking the talk.
More and more brands are offering a pre-loved proposition, rethinking procurement and supply chain strategies, and developing greenprints for their technology, all of which are great steps towards a more sustainable future.


Customer engagement
Customer engagement involves using insights to connect with customers wherever they are, making it easy for them to engage with the brand, and giving them reasons to return. An organisation's digital transformation journey should be focussed on all the stages of the customer journey from awareness > discovery > transaction > fulfilment > after-sales > advocacy. Often, however, brands tend to chase shiny new propositions rather than focus the digital transformation on improving the existing customer experience.
Also, brands tend to assume that if they do something already, they do it well, which is often not the case. A customer-centric brand must rigorously and regularly go on the end-to-end customer journey online and in-store to find ways to improve the existing experience to drive lifetime value.
What about the aftersales experience?
The aftersales experience is a critical aspect of the customer journey, yet many brands are missing the mark. Instead of empathy and a focus on the customer's experience, policies and rules often dictate the post-purchase experience, leading to unnecessary attrition and a decline in lifetime value.
In today's consumer landscape, where sustainability and reducing waste are key priorities, it's more important than ever for brands to step up and improve their aftersales experience. It is the aftersales experience that will make or break a customer for life.
Recently, I experienced two highly disappointing aftersales experiences, both of which were driven by rigid policies.
As a loyal customer and top-tier member of a popular beauty retailer's loyalty program, I was shocked by their 28-day return and exchange policy without exception. When I accidentally purchased the wrong product (worth £90), I was met with rudeness and inflexibility when I tried to exchange it, despite clear proof of purchase and a simple mistake. Subsequently, speaking to customer service, they replaced the wrong product with the right product free of charge and told me to keep the wrong product. Despite this, the overall experience left me outraged and questioning whether this brand values its customers or its policies more. Did this retailer just lose £90 that day because of a 'policy' or a £1000 plus a year loyal customer and huge advocate?
"
By prioritising the customer experience, brands can create loyal advocates who will return time and time again, rather than just customers and employees who follow the rules.
"
Similarly, when I tried to exchange unopened boxes of kitten food (worth £80) for the adult food my pet now eats, a popular online pet food retailer refused, citing their 28-day policy with no exceptions. The waste and expense of pet food due to fussy eaters or growing out of kitten or puppy food is a common issue among pet owners, and the inflexibility of this retailer left me frustrated and disappointed.
Conversely, I have recently had many delightful experiences with a popular gym apparel brand where it is clear to me, as a customer, they have prioritised my experience and now have me as a regular and loyal customer. They make it easy for me to shop, collect, return and have a flexible exchange policy. The store employees are friendly, knowledgeable and appear to be empowered to serve the customer rather than follow policies.
Why empathy is key
While policies are necessary, they shouldn't be the sole determining factor in the customer experience.
Perhaps policies should be rebranded as guidelines, empowering employees to serve the customer better, improve the overall experience, avoid attrition, and drive lifetime value. By prioritising the customer experience, brands can create loyal advocates who will return time and time again, rather than just customers and employees who follow the rules.
To truly prioritise customer centricity and loyalty, brands must invest in gaining a deep understanding of their customer's needs and challenges at every touchpoint in their journey as a core part of their digital transformation. This can be accomplished through a combination of methods, such as frequent site and shop floor walks, conducting mystery shopping, and utilising data analysis to generate actionable insights.
By taking the time and effort to truly empathise with their customers, brands can foster lasting relationships and maximise customer lifetime value. And remember that happy employees make happy customers!
Do you need expert resource, or help with strategies for customer-centric transformation? Speak to the Freshminds team.