How can your business stay successful and relevant?
Companies can't stay the same forever. The successful ones use business transformation to ensure they don't.
Some of the most influential businesses in history—Airbnb, Netflix, Microsoft, Apple—have something in common. They're disruptors. They changed their product offerings or retooled their technology to meet changing customer expectations and stay on top of their industry.
Business transformations don't happen overnight. It takes careful planning, strategising, and expertise to decide what changes need to be made and the end goal.
This comprehensive guide will take you on a step-by-step journey to craft a business transformation strategy to improve culture, maximise productivity and boost profits.
Let's get started.
Table of contents
What is Business Transformation? A quick definition

The current state of transformation projects

How Airbnb transformed its business and disrupted a $570 billion market

The four main types of Business Transformation frameworks

Organizational transformation

Digital transformation

Data transformation

Cultural transformation

How do you lead a business transformation?

State what the business transformation will achieve by asking questions

Pick a business transformation strategy

Strategic Alignment

IT Alignment

Remember—a successful business transformation is a constant process
What is Business Transformation? A quick definition
Business transformation is when an area of a company— such as technology, culture, management or data—is overhauled to make it more productive, modern or efficient.
A successful transformation can improve parts of a business like:
Processes: Which services/products are offered as well as how they are distributed and developed.

Technology: Implementing new technology and workflows to digitise manual operations and improve productivity.

Hierarchy: Organisational and management restructuring to allow operational and cultural changes.
Overhauling how a business operates also helps companies gain a competitive advantage. It makes a business more agile and open to change. After a transformation, businesses are better positioned to keep up with societal and cultural changes, such as when customers move online or want to interact through technology.
Need support during a business transformation? Find out more about the Freshminds approach here.
The current state of business transformation projects
A business transformation is a long-term project that aims to improve and modernise parts of a business, and it's an essential part of company evolution.
According to the IDC Worldwide Digital Transformation Spending Guide, businesses will spend $1.8 trillion to transform and update operations in 2022. Transformation priorities will target investments in back-office support, infrastructure, digital supply chain optimisation and smart manufacturing.
Craig Simpson, senior research manager, Customer Insights & Analysis at IDC, says the spending reflects the investment companies make to go digital.
"As organisations accelerate their pursuit of a digital-first strategy, they are channelling these investments into both internal operations and external direct engagement," he says.
"The investments in internal operations are largely focused on improving efficiency and resilience while customer experience transformation has become a DX priority for many companies."
The problem, according to McKinsey, is that digitisation alone is no longer enough. Businesses are disrupting industries and deploying advanced technology to beat out competition. Companies are forced to remake themselves and transform the products and services they offer to compete.
One of the best examples of a complete business transformation is the well-renowned - Airbnb.
How Airbnb transformed its business and disrupted a $570 billion market
Airbnb began in 2008 when founders Joe Gebbia and Brian Chesky decided to rent out a room in their apartment with an air mattress on the floor. They put together a website, AirBed & Breakfast, and started taking bookings.
Although the idea behind the company was promising, the pair decided that it was unwise to disrupt conventional hotel chains as the business model has huge overheads. There were other downsides as well, like complex regulations and property taxes.
So, they transformed their business and found another way to disrupt conventional hotels without buying buildings:
No ownership. Unlike hotels, Airbnb doesn't own any property. It simply manages a SaaS platform and invites owners to advertise properties on it. The lack of ownership allowed the company to quickly scale and make profits, as owners are responsible for maintaining and cleaning their properties.

Airbnb takes a small cut from every booking. Hosts pay Airbnb a fee to advertise their property on the platform (around 3%). Some of the 14% guest service fee also goes to Airbnb.

​
Although Airbnb is now worth $76 billion, it continually transforms its operations and regularly releases updates and new experiences. Its business model reflects a successful transformation: a bridge between what the market and technology allow and what customers want.
The four main types of Business Transformation frameworks
1. Organisational transformation
Organisational transformation targets a company's management and hierarchical structure.
It looks at various processes that heavily regard people, including management functions and leadership models. In turn, this helps businesses adapt to cultural changes and undo old, and sometimes, harmful behaviours. Organisational transformations also help management teams realign with overall business goals and ensure they understand the company's values, vision and mission.
Typically, organisational transformations use one of three approaches:
Top-down. Changes are developed by management around the company's performance and then passed down to employees.

Bottom-up. Everyone in the company decides what changes to processes and operations are needed.

Cross-functional. Processes and frameworks around activities, goals, and hierarchy improve areas like cost, customer experience, quality, and profits.
McKinsey's transformation triangle highlights that combining the three approaches makes organisational transformations more successful. Top-down initiatives help leaders see which employees need more training, while bottom-up approaches ensure every employee is motivated to have input in the transformation. Add in the cross-functional strategy, which solidifies the transformation's objectives and goals, and the process becomes a genuine team effort.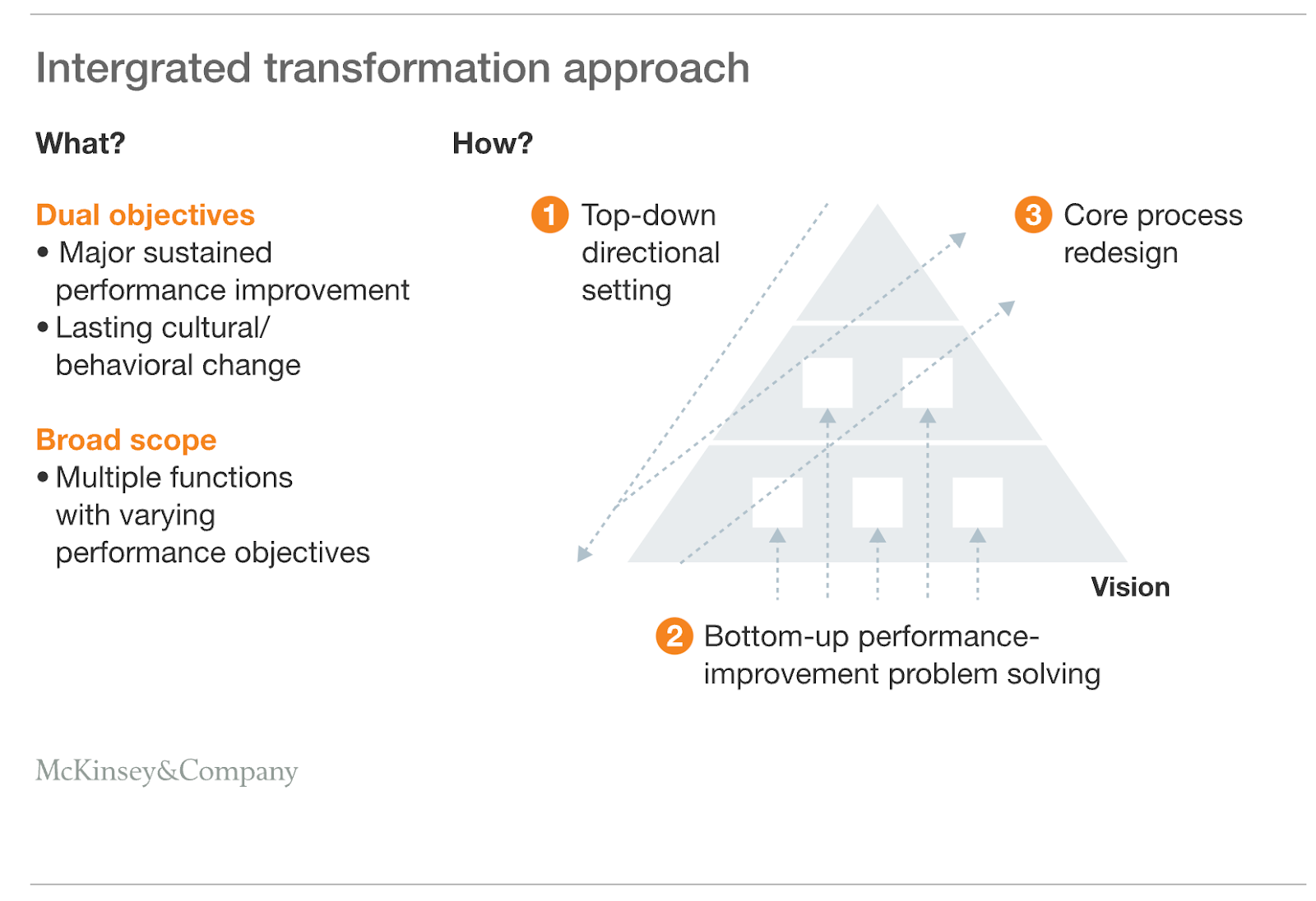 2. Digital transformation
A digital transformation is when technology and software is updated or implemented to improve productivity and replace manual operations.
Businesses may overhaul their entire tech stack and update everything from computers to software and CRMs. Digital transformations can also be smaller changes, like adding a new HR system or upgrading Enterprise resource planning (ERP) tools. Each transformation has buy-in from the departments that will be affected (i.e. management, marketing, sales) and teams will have to learn how to use any new technology when the project is complete.
Usually, digital transformations happen to improve customer experience, automate manual tasks or increase productivity within the team.
However, some digital transformations require replacing business models or legacy systems with completely new software and operating procedures. Here's how Netflix did just that to turn its company into an $85 billion disruptor.
Digital transformation case study: Netflix
Netflix's digital transformation took place in 2007—10 years after the company launched.
When Reed Hastings and Marc Randolph created Netflix in 1997, it was a DVD rental service where customers were delivered DVDs by mail. It took off, and in 1998, the company launched Netflix.com, the first DVD rental and sales site.
The hope was Blockbuster would eventually acquire the company for $50 million. That was until Blockbuster rejected them, unable to find the value in their product offering.
On the back of the failed negotiation, Netflix transformed its business from DVD rentals to an online streaming service. It also became one of the first companies to transition to a cloud-based microservices architecture, which allowed it to avoid server outages. The company's 220+ million subscribers benefit from this by accessing uninterrupted, fast streaming.
Blockbuster waited too long to transform its product, and it went bust in 2010.
3. Data transformation
A data transformation overhauls how a company handles data by changing its collection, analysis and use.
Data transformations involve organising how data is collected or taking unused datasets and analysing them to unlock customer insights. In addition to streamlining how data is used, a transformation also finds unnecessary or incorrect data (i.e. wrongly formatted) from datasets and eliminates it. This makes standardised data accessible and organised.
The result of a successful data transformation is organised data that humans can use to experiment, validate ideas and, most importantly—meet customer expectations.
Data transformation case study: Google Ventures
Google Ventures (GV) is one of the most successful CVCs on the planet, managing more than $2 billion.
Its secret weapon is data. Historically, VCs used data from company databases and processed it to assess deals. Google Ventures does it differently.
The firm's 80 employees use analytics and algorithms to analyse deals and make investment decisions based on competitors and market opportunities. Machine learning and artificial intelligence (AI) researchers also use data to advise GV's investment team on when to make informed decisions and offers for deals.
Thanks to data, GV is now the most active investor in digital health, has completed more than 50 successful exits and provides investors with above-market average returns.
4. Cultural transformation
Cultural transformation involves rethinking a company's values, morals, expectations and employee mindsets.
Changing company culture can't be done using tools or technology alone. It involves everyone, from management to employees, transforming their behaviour to align with the company's vision and values.
The most important part of any cultural transformation involves the entire team. Cooperation helps employees and management understand the root problems with the company's culture, what changes they need to make, and how to make everyone accountable for improving their capabilities.
Cultural transformation case study: Unilever
In 2005, Unilever—one of Brazil's largest companies—was in a downward spiral.
The problem didn't stem from a lack of customers or poor technology. It was Unilever's culture. And the problems—employee dissatisfaction, misaligned values, bureaucracy, and short-term focus—all threatened to damage the company's growth.
Unilever hired consultants specialising in cultural transformations to help bring the company back to life through listening, personal sharing and dialogue. The transformation included:
Top-down meetings where the executive team conducted leadership meetings and reconnected with their teams.

Culture value assessments that were filled out twice a year.

Overcoming outdated cultural practices and embracing dynamic work with the different cultures in the company.

Management checking in on employees to talk about their needs and goals and creating personal plans.
The transformation paid off. Unilever's revenue quadrupled by the second quarter of the year, and employees' unproductivity fell from 37% to 19%.
How do you lead a business transformation?
Business transformations can be hard—you will be changing a fundamental part of the company from the inside.
Without proper planning and expectations, transformations can go south. Boston Consulting Group found around 70% of digital transformation projects aren't successful in reaching their goals.
Here's how to lead a business transformation to ensure it improves your company.
State what the business transformation will achieve by asking questions
The most successful transformations start by carving out a clear goal of what will be achieved and what problem the project will solve.
The Modern Business Transformation Framework refers to this step as Uplift Capability. A transformation can only be successful if a business correctly pinpoints a problem or process to optimise or change and ultimately—improve its operations.
Use questions to find these problems and outline what you really want the transformation to achieve.
Picture this: a business is completing a merger with another company, but the computers keep freezing up and slowing the process down. The problem could be an outdated computer system. But it may not be the root problem the company needs to solve.
A good framework to uncover the root causes of a problem is Toyota's famous "5 Whys" method. Taiichi Ohno, the method's inventor, had a motto:
"By repeating why five times, the nature of the problem as well as its solution becomes clear."
Here's what happens if we dig into the IT system failures using the "5 Whys" method [Image source]. ​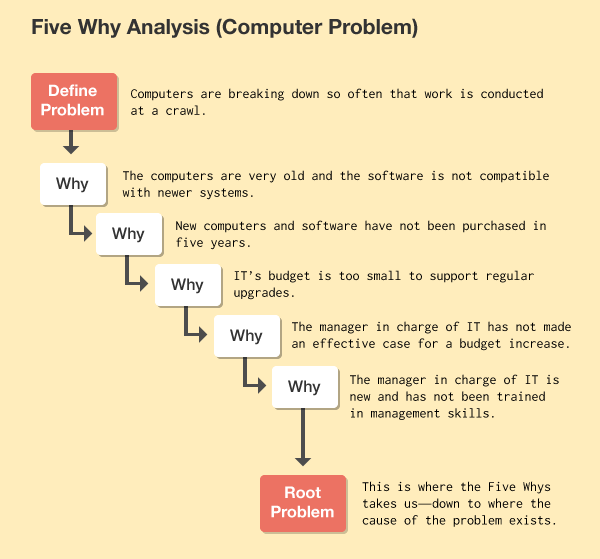 The question now becomes: is the problem the outdated computer system or a lack of IT management training?
Reframing the problem with the IT system allows the business to focus on its core technology and organisational problems. This is vital when getting to the next step of the transformation framework—selecting a strategy.
Pick a business transformation strategy
Choosing a strategy to guide a transformation must consider several areas of the business, like operations, management, current processes, IT infrastructure and of course—customers.
One of the most comprehensive frameworks, "The BTF Approach", uses two methods—strategic alignment or IT alignment—to build a transformation plan. ​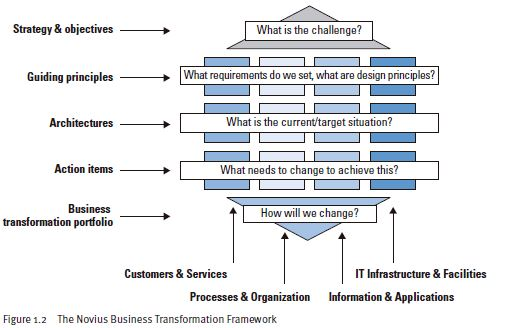 The BTF Approach to business transformation. The Strategic Alignment strategy can use this diagram to plan and execute transformations.
Business transformation framework: strategic alignment
The strategic alignment framework uses a top-down, left-right approach to business transformation.
A company thinks about its challenges, current situation and guiding principles to create a goal for the transformation (which is why it's so important to narrow down problems in step 1). Here's an example of a set of guiding principles the
Department for Work and Pensions used for a large transformation in 2014: ​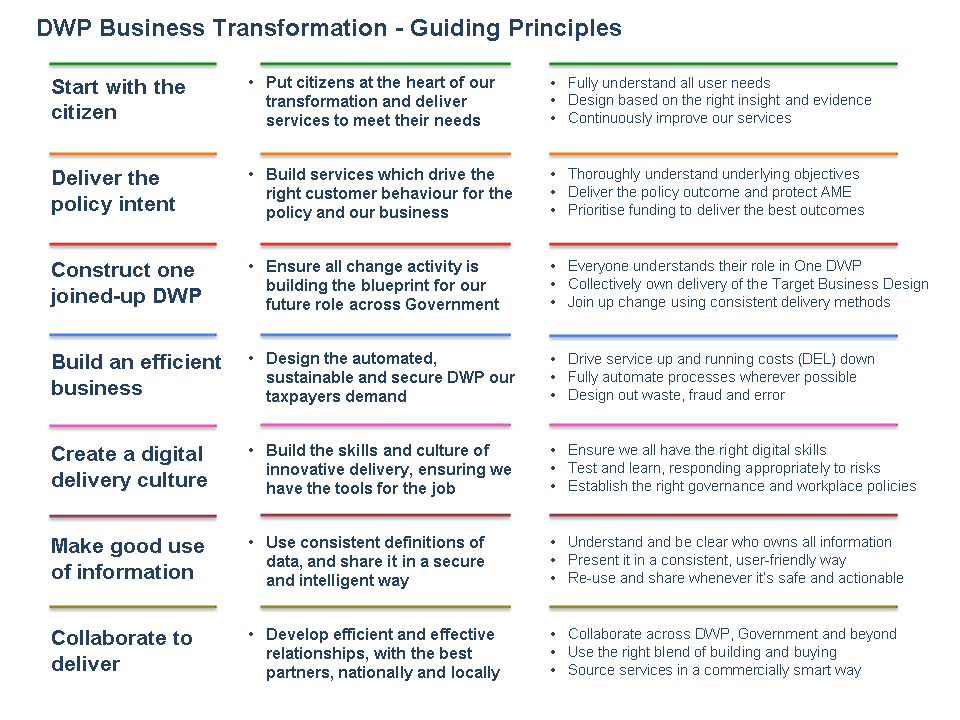 ​Andrew Besford, who helped lead the transformation, said in a blog post the principles were a practical way to speed up the decision-making process.
"We've also used the Guiding Principles externally as a conversation starter, where we have had a great response from colleagues in other government departments, and other stakeholders," he said.
After you have settled on a set of principles, create action items and architectures to ensure the transformation stays on track.
Business transformation framework: IT alignment
The IT alignment strategy focuses on a challenge a business is facing before creating guiding principles and actionable items.
For example, the business must consider its biggest problem (the strategic challenge) and consider how a transformation will impact its clients, services, IT infrastructure and organisational hierarchy.
​
Using the framework, whoever is leading the transformation can decide what changes need to happen in each area to overcome the strategic challenge.
For example, a company may need to overhaul its website so customers can order products and get instant access, rather than waiting for a staff member to fulfil their order. This upgrade would require integrating eCommerce software or digital product fulfilment tools to handle the transaction and give the customer access to their goods once their money clears.
This transformation will impact the company's IT infrastructure, customers and fulfilment processes.
Remember—a successful business transformation is a constant process
A business transformation is a constant process rather than a one-off project.
Monitoring the progress clarifies whether it has been successful and what parts of the initial strategic challenge still need to be solved. And it takes a coordinated team to do it.
Transformations require a lot of planning, thinking and strategising. Businesses can tackle them in-house or hire a team of experts to consult, manage and execute a successful transformation.
Business transformations are an ongoing effort. When done right, companies can harness them to improve their processes, create better cultures and most importantly—give customers a better experience.
Do you need help with a
transformation pro
ject
?
At Freshminds, our network of analysts, consultants, and project managers support transformation projects by managing change and delivering results. Find out how we can help with your next project.