​There is one thing that all the most successful companies have in common—they adapt to the times.
Making major internal and external changes, like modernising your customer feedback process or overhauling your tech stack, often focuses on effectiveness.
Taking on digital transformation projects is no different. Switching systems from analogue to digital or integrating newer technology takes more than buying a new computer. It requires a structural change in your business to shift expectations in your team and overall company goals.
These projects also vary a lot depending on what you want to achieve. Integrating a CRM won't take as long as a full digitisation overhaul of your system, and the industry you're in will also make a difference—a retail company may have completely different needs to a business in the private equity sector.
In this piece, we're going to take a deep dive into:
What is a digital transformation project?

What do digital transformation projects accomplish?

3 top reasons why digital transformation projects fail

How to make every digital transformation project a success
Let's get started.
What is a digital transformation project?
A digital transformation project is a process that changes the technology and digital structures within a company to make tasks easier and improve customer experience.
The digital transformation of your company may not occur overnight. Changes may need to be implemented in phases because your team needs time to adjust to the new technology or a different operational structure.
However, if you nail a digital transformation project—the payoff can be huge.
Salesforce asked over 500 employees what the most significant changes they noticed after their company took on a digital transformation, and the answers were eye-opening. Not only did the transformation improve speed and efficiency, but it also cut costs and improved customer experience.
But let's not sugarcoat what a digital transformation project requires. It's not just a matter of switching out old Macbooks for new ones or running a software upgrade. A truly successful digital transformation project can replace older technology with newer systems, reshape a company's goals and ultimately make the workforce more productive.
What do digital transformation projects accomplish?
Digital transformation projects can help companies achieve a lot, like making them more competitive in their marketplace or overhauling their hiring processes.
Streamlining workflows or modernising digital tools are all examples of process changes that can be targeted during a digital transformation project. Transformations can also affect how customers view your company—digitising operations or implementing new technology can have a lasting, positive impact on their experience with your brand.
Think about how businesses operate now—and how they did a decade ago.
Think of the healthcare industry; in the last 20 years, it's experienced a period of radical digitisation resulting from things such as data mining and access to digital encyclopedias. Now, technologies are revolutionising the industry again. According to the data of John Hopkins, in March 2020, just before the first global lockdown, the number of televisits was approximately 50–70 per month. By May 2020, this number increased to 94,000.
Scenarios like this highlight the real-world benefits of digital transformation projects and how they can be a gamechanger for businesses.
3 top reasons why digital transformation projects fail
Digital transformation projects can be very ambitious and ill-thought-out, resulting in many of them failing.
A recent study by Boston Consulting Group found that 70% of digital transformation projects don't reach their goals.
​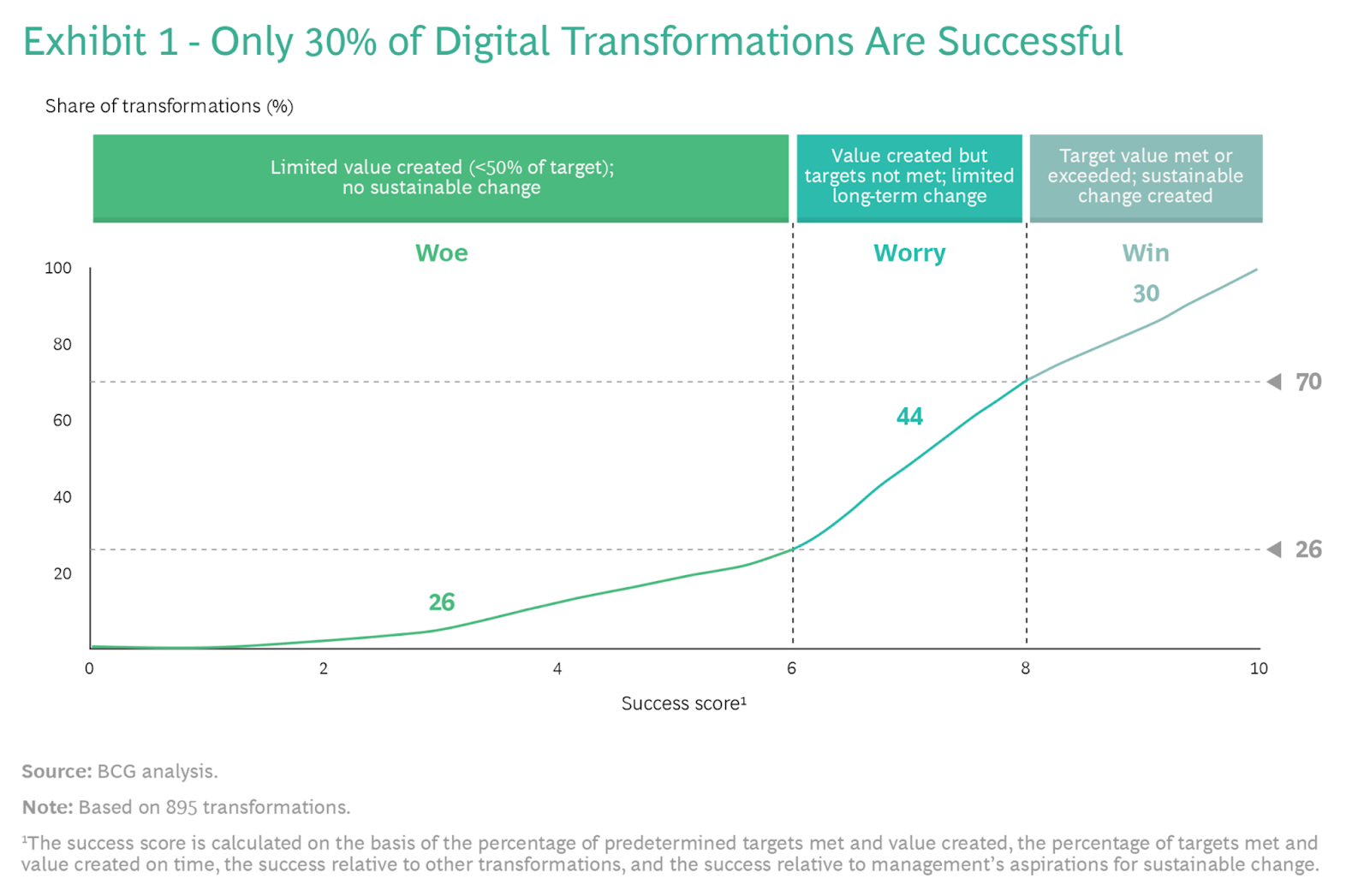 ​
Even when a company's management team is on the same page about a project's goals, many projects still fail to achieve sustainable change.
So, what are the main reasons why digital transformation projects fail?
The tech stack needs a (big) clean up
Digital transformation projects can quickly become complicated when companies continuously add to already heavy tech stacks; sometimes, taking a step back and considering the full spread of digital tools is beneficial.
A company's digital transformation cannot be a success if they don't look at the tools they're using and figure out if they're working together or not. If processes are clunky or tools aren't integrated properly, a digital transformation can break down any barriers that a company has in the technology it uses.
It is essential for tools to have a purpose, whether it is to help teams complete tasks faster or to enhance the customer experience. However, many digital transformations are focused on adding new tools instead of resolving the core issues within a tech stack, such as how to break down silos within an organisation or make better use of integrated software.
The team doesn't believe in the transformation
Any change in a business is scary, especially if a digital transformation will overhaul the tools and processes a team is used to.
If a team doesn't know why the transformation is happening or how it will affect their day-to-day working life, it can lead to the project's failure. This starts at the top with the management team in charge of the digital transformation project, as it's their job to explain to key stakeholders what the process will involve and how long it'll take.
If everyone isn't on the same page before the transformation starts, teams may resist change and take the project in the wrong direction. This is where the help of a consultant becomes a useful asset—they can help engage stakeholders, manage change and deliver long-lasting results so your transformation sticks.
The company doesn't have the right skill sets
Digitally transforming a business isn't easy, and some teams won't have the necessary skills in-house to do it successfully.
The transformation may involve moving entire processes and software into the cloud or migrating tools into existing tech stacks. If the tasks aren't managed correctly, they can result in costly errors, which may take skilled IT teams time to resolve.
Skill sets can materialise in different ways. You may need functional expertise that handles the day-to-day governance of internal software or an interim strategist to lead the transformation process as a whole. Both can be equally valuable and essential to delivering an effective project.
How to make every digital transformation project a success
1. Create a strategy around what you want the transformation to achieve
Start by creating a strategy that tackles the digital challenges and roadblocks facing your business today.
It will be easier to keep the transformation on track and keep stakeholders in the loop if you have a clear vision that outlines what type of policy changes, technological overhauls and operational changes are planned. There are several areas a strategy needs to cover, including:
Vision: The overall vision for the transformation, including timelines, goals and outcomes.

People: Who will be involved in the transformation, from programme directors to researchers.

Operation: How the project work will be handled. This may require using project management tools and meetings to agree on when project tasks will be delivered on a daily, weekly, and monthly timeframe.

Risk: A realistic idea of the risks involved in the transformation. It's also helpful to include risk assessments and mitigation ideas.
Your strategy should also include how the transformation ties in with your company's values. It's important that your stakeholders and, if necessary, your customers are taken into account as any transformation will also affect them.
Gather each of the above points and use them to create a broader strategy that addresses what the transformation will involve, including the changes to technology, hierarchy, and organisational processes.
2. It all starts at the top—share a vision of the project's goals
A strong vision fuels the organisation's energy and improves alignment for a digital transformation project.
Getting buy-in from experts and executives at your company (whether they're involved in the transformation or not) is key to its success. If managers can effectively communicate to the rest of the team what the transformation will achieve and—more importantly—what's in it for them, there's a better chance of getting them excited about it.
Don't be afraid to go into the details of what the transformation will achieve and how the team's daily workflows will be impacted, in fact, analytics may have already been used to sell the project initially. Tell them if you will be implementing new tech or making hierarchical shifts and what training they will be getting to bring them up to speed with the changes.
3. Scout for talent and fill your team with the right people
It's not uncommon for companies to have skill gaps when they decide to take on a digital transformation project.
From updating organizational structures to implementing an effective CRM, a transformation can have many different areas that require experts. Core skills like digital and IT experience are a given. But others skills, like analysts, consultants, and project managers, can be overlooked and lead to problems with a project of this size.
The safest way to ensure your team has the skills necessary to complete a digital transformation project successfully is to hire the best people available with the experience you need. This will either mean bringing in people to join your in-house team or hiring external consultants and experts to help you deliver the project.
Pro-tip: Hiring the right people can help companies avoid costly transformation errors. At Freshminds, we cultivate a rich network of experts who offer consulting expertise, rich digital knowledge and change management support to help make every digital transformation project successful. Find out more here.
4. Monitor your results and keep your eye on the prize
Finally, track every part of the transformation to ensure that the project aligns with your strategy's end goals.
Develop benchmarks for when milestones in the project should be reached to help keep it on track. For example, if you implement a new CRM system, ensure that onboarding and training are scheduled and completed within the allocated timeframe.
It's also essential to attach metrics to your transformation to monitor its impact on your company's operations and workflow. Think about tracking metrics like:
Productivity changes. Is your team managing to complete more tasks in their day? How many manual tasks have you been able to automate?

Customer experience. How has your customer base reacted to the transformation? Have the changes impacted customer experience or retention rates?

Baseline analytics. Create a spreadsheet or dashboard to house all of your data that acts as your single source of truth. Maintaining one place to check your financial, productivity and customer metrics is helpful in tracking every part of your transformation and its overall impact.
Monitoring your transformation allows you to see where you succeeded and what still needs work. With some tweaks, you can ensure your digital transformation project brings meaningful change to your company and helps you revolutionize the way you work.
Do you need help with a
digital transformation project
? At Freshminds, our network of analysts, consultants, and project managers support transformation projects by managing change and delivering results. Find out how we can help with your next project.
​