Nowadays, fostering consequential management strategies is a top concern for companies that want to sustainably grow.
And many businesses are leaning toward an employee-centric structure that celebrates skill development, a diverse demographic, and overall flexibility.
While a copy-and-paste approach to strategy is often a recipe for disaster, companies across the globe are tackling many of the same issues when it comes to changing workforce patterns, such as a reliance on communicative digital tools and increased importance on a diverse workforce.
These changes can be summarised in a few key strategic challenges;
Increased resignations and lack of employee longevity

Employees wanting more autonomy

A lack of expertise or experience

Poor communication between management and employees

A lack of diversity
During a period of so many transitions, companies need to be agile to survive the turbulence, lest they get caught in the unavoidable storm that shrunk huge companies like Toys R Us.
The moral of the story is, evolve to survive.
In this article, we'll investigate new approaches to organisational management strategies that focus on a "diagnosis" of current challenges, as well as examples of how agencies like DARPA are successfully tackling "policy" and "action".
The truth about strategy…
The truth about strategy is that what works for one company may not necessarily work for another; differences based on business size, industry, growth projections, and unavoidable, external variables will present unique challenges.
In that sense, looking at specific hurdles within your own business is essential to determining a successful strategy for overcoming them.
For companies that need help fleshing out a strategy, whether that's within the diagnosis, policy or implementation stage, opening a dialogue with an interim consultant can be a practical first step towards change.

1) Increased resignations and lack of employee longevity
Guiding policy: Offer comprehensive career development
"44% of millennials do not expect to stay in a job for longer than 2 years", reports The Chartered Management Institute (CMI).
With the increase of flexible working, accommodating tech platforms and attitudes towards career shifting, the millennial workforce is driving the 'reshuffling' trend within the job market. However, for managers, resignations from permanent staff members can cause general disruption to everyday tasks, create skills gaps, and the need to onboard new talent - a time-consuming process.
Of course, this statistic is generalised and can vary depending on the industry; for instance, entry-level retail roles vs mid-manager finance roles will offer a much different perspective. However, there's no doubt that job changes are much more common than they once were, especially with the rise in freelance and interim work opportunities.
Employees may leave a company for various reasons, but often, it's because they simply don't see a future within that particular organisation. Investing in your team's development can be one way to tackle this challenge and maintain talent. But what does this mean in practical terms?
Potential solutions can include:
Offer educational programs and courses in-house.

Establish a monetary scheme for employees to put towards relevant education outside of the company.

Hire external people management consultants.

Use mentoring platforms like PushFar.
Many companies are already implementing these strategies. At Boston Consulting Group, every employee "is hired with the belief that he or she will be a long-term employee, capable of substantial professional and personal growth within the firm".
As well as offering this encouraging message, BSG provides virtual classrooms in their LAB Learning Portal. Here, employees across the world can access specialised content on 20-areas of expertise, as well as individualised recommendations that "develop problem-solving, analytical, communication, leadership, and client service skills".
BCG not only say they care about their employee's development with a virtuous mission statement, but they show it in tangible schemes too.
Guiding policy: Re-evaluate your organisational structure
For some companies, initiatives, like the one above, aren't enough to fix the often deep-rooted organisational problems. Instead, a drastic change and transformation project may be needed.
Although income salary can represent a value of service, employees expect more than just monetary comfort in today's emerging workforce. Workers also want benefits (development, as mentioned above), job stability, and to work on projects suited to them.
So, how can senior management respond to these needs?
Squarespace, an organisation that specialises in website building and hosting, is just one company moving toward a flatter organisational structure.
A flat structure offers fewer mid-management positions, creating a more dynamic and less hierarchical system of work.
They believe it generates "an open and creative culture" and tackles some of the issues above, like frustration from employees working on ill-suited projects and tasks, "Our mostly flat structure allows each of us to work on the things we're passionate about".
In reality, this means Squarespace employees are involved in a range of initiatives that encourage development and collaboration, such as 30-minute peer hang-outs to discuss current projects, open access to InVision designs, and, in general, entry-level and experienced staff members are encouraged to maintain an open dialogue.
Equally, sectors will approach organisational structure differently, for instance, law firms still uphold a traditional hierarchy. However, the core principles of strong communication and access to senior employees can still be implemented.
​
2) Employees wanting more autonomy
Guiding policy: Respect employees' right to work from home
WFH (Working from Home) has become a somewhat controversial acronym over the past year, causing a splitter in the relations between some management and employees.
Now that many countries are in a better position to handle Covid cases, there has been a growing tension surrounding the question, "when are we going back into the office?"
Elise Freedman, a transformation leader at Korn Ferry, writes, "A lot of business leaders have told me that they don't believe in hybrid work, that it has no place in their culture".
The problem is many employees don't want to return full-time. According to a recent global report from Future Forum Pulse,
"Executives who work remotely are nearly three times more likely than employees to prefer returning to the office full-time; 76% of employees do not want to return to full-time office work."
This "great disconnect" is not only causing intercompany tension, which impacts work performance but has also been fuelling the huge resignation numbers we've been seeing in the work sphere.
So, who's going to win this power struggle?
Freedman continues,
"...the companies who push for a full return-to-office could see serious ramifications if they don't offer employees the kind of flexibility and environment they're asking for … they'll just leave."
Managers need to recognise that for most employees, the benefits of working from home outweigh the negatives, as seen in our research below.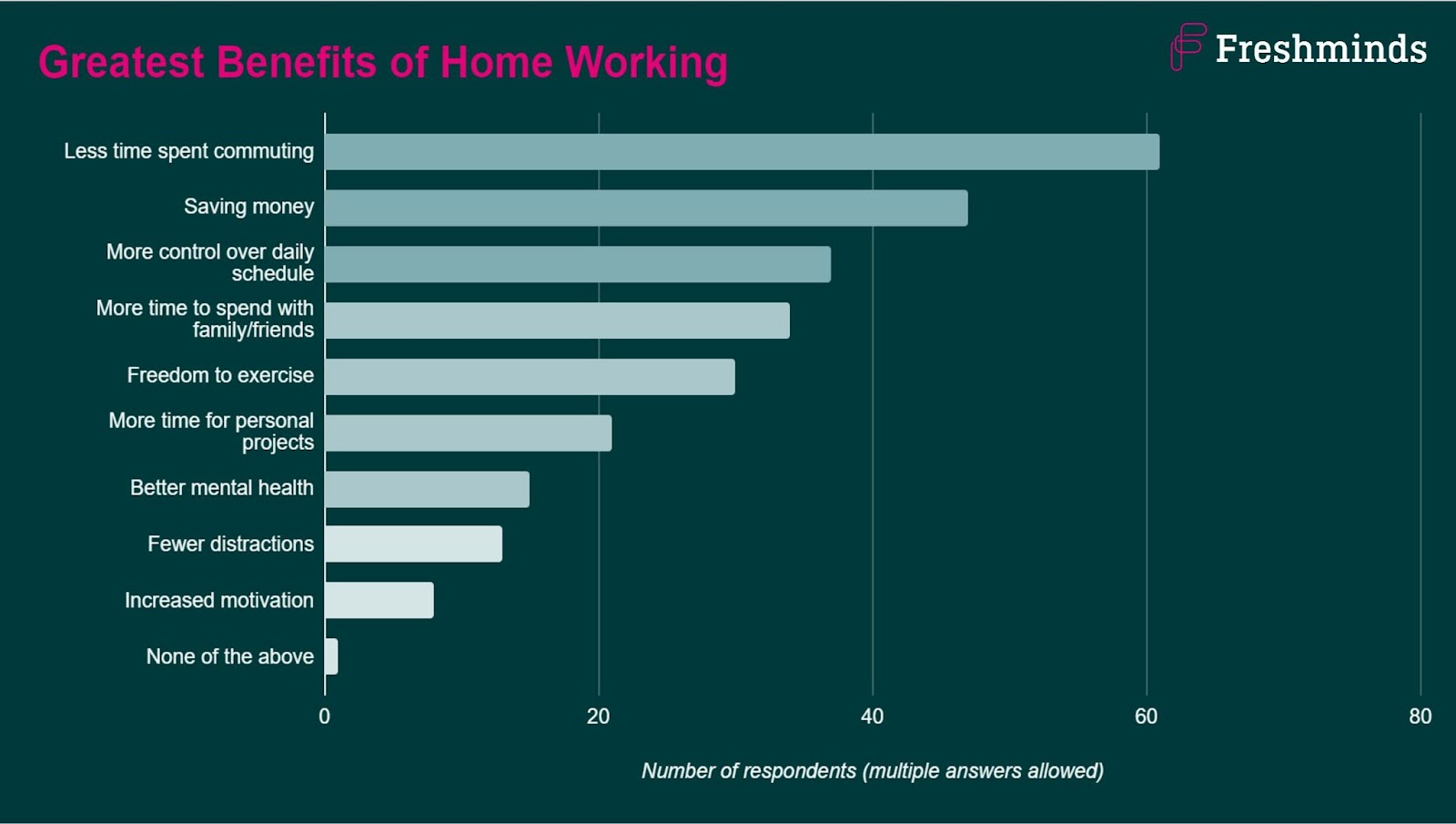 In fact, survey respondents voted on almost double the number of benefits, with the most popular answers including "less time spent commuting", "saving money", and "more control over daily schedule".
In comparison, the greatest challenges of home working are "setting work/ life boundaries" and "reduced company culture", which arguably is not a symptom of home-working but poor management.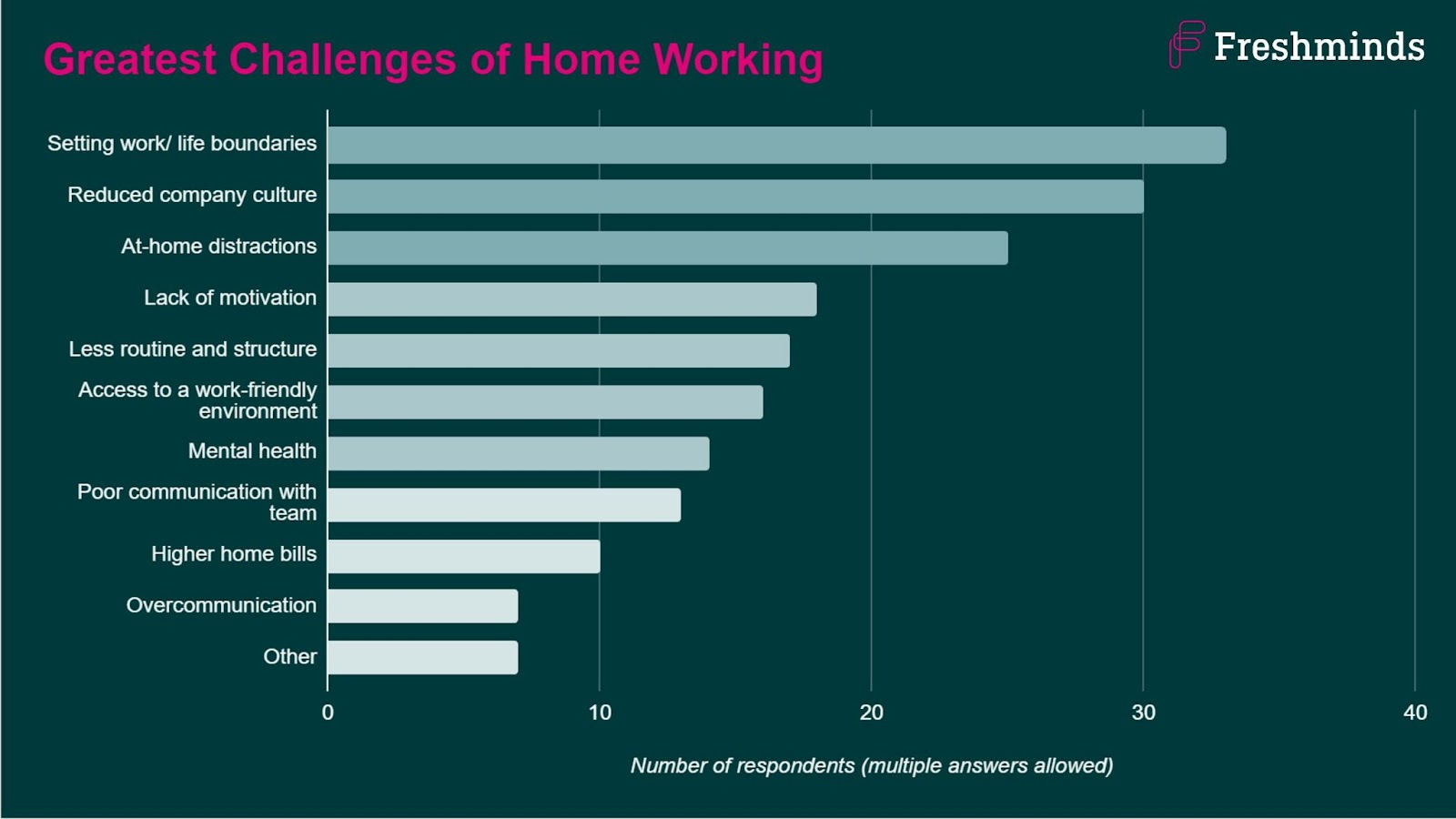 For employees, flexible working isn't just about the convenience of working in a home environment; it also signals respect and trust from management - something which can also have a severe impact on motivation and longevity within a role.
Management that wants to avoid losing talent could offer flexible working as a comprise - where employees spend some days in a formalised office environment and some days at home.
Additionally, they can implement policies that tackle some of their worries around WFH. For instance, optimising communication platforms can ensure employees feel supported and heard and offer managers a chance to convey important messages. Another option is starting every morning with a 10-minute meeting, where employees can discuss their daily intentions or present an energiser to encourage interaction and company culture.

3) A lack of expertise or innovation
Guiding policy: Embrace flexible talent acquisition
DARPA (the Defence Advanced Research Projects Agency) is a US government agency responsible for developing technologies within the military.
Because they specialise in emerging tech, their workforce needs to be innovative, specialised, and objective to tackle the challenges within their sector. In essence, maintaining these qualities is no easy task.
To tackle this challenge, the company built several policies that would allow them to be agile, bring in consistent new talent, and still reach their goals. For instance, they "retain program managers for only four to six years to limit empire building and to bring in fresh talent".
Establishing these policies has resulted in new-age technical advancements in nanotechnology, speech recognition, and unmanned military vehicles; they've successfully delivered on their company goals. DARPA understood their unique obstacles and, most importantly, implemented a strategy built around them.
Like DARPA's example, flexible talent acquisition can be an incredibly useful tool within a long-term strategy that values innovation and functional expertise. And when taken advantage of, it can grant companies access to rich sector knowledge and skills that help realise long-term goals.
To avoid the hassle of sourcing talent in-house, companies like Freshminds can do the leg-work instead. For instance, we operate a highly-vetted network of interim researchers, analysts, and consultants, many of whom offer years of experience in strategising for organisational changes.

Guiding policy: Develop strong hiring practices
When it comes to managing organisational patterns, the hiring process is the first frontier.
Whether working with interim or permanent staff, recruiting a candidate should offer more than a tick-box approach to education, work experience, and hard skills. An emphasis on soft skills such as problem-solving, innovative thinking, and work ethic can also be valuable.
But how difficult is it to determine whether a candidate is a right fit in one or two interviews? Very.
To combat this, companies across the globe have come up with inventive and tailored ways to assess candidates, from Redbull's Wingfinder assessment tool to Unilever's psychometric games.
Below are some real-world interview strategies used today:
Red Bull Wingfinder assessment tool: A 35-minute questionnaire that uses visual cues and hypothetical scenarios to determine personality traits around empathy, creativity, and motivations.

McKinsey's problem-solving game: A form used in many consulting firms, McKinsey's game consists of simulated client scenarios. Each candidate has to answer a series of questions about structural problems, data charts, and potential solutions; delivery and professionalism are also reviewed.

Unilever's psychometric games: Unilever's aptitude tests or 'games' are provided mainly by platforms like Pymetrics. Candidates are tested for 9 qualities ranging from attention to generosity.

Lloyd's virtual reality assessment: Apparently, the first organisation to use VR as part of their assessment centres, candidates are presented with a virtual environment where they can pick up, move and pass a variety of objects. By providing candidates with scenarios, the company can assess skills like problem-solving and active listening.

4) Communication between management and employees
Guiding policy: Modernise the HR operating model
In BCG's 2021 'The Future of People Management Priorities' report, they asked 6,600 participants from various industries, geographical locations, and levels of seniority to rank 32 people management topics by future importance,
"Respondents identified "people and HR strategy" as the most important (with the largest share of respondents citing its importance as "high" or "somewhat high."
The participants also ranked "leadership and development behaviours" second.
Responding to employee needs is one thing, but unless you've implemented a system in which your employees' values, needs, and wants can be communicated without it feeling intrusive, you won't know how to strategise for them.
Traditionally, that's the partial role of an HR (Human Resources) department, which builds communicative bridges between employees and managers. But how effective is your model for the current day?
Whether you use the Standard Casual Model, the Havard Framework, or any other, will largely depend on your industry, size, and overall business strategy.
However, besides a formalised design, HR also needs to present specific values. For instance, they need to be agile, creative, informed, and also capable of withstanding internal company changes.
For managers, essential questions to ask are:

Does the HR department have access to the technology needed to communicate with employees quickly and efficiently?

How well suited are the employees within HR to a role that demands empathy, patience, strong organisational skills, and more?

Is the department upholding policies and communicating them sincerely?

Are they educated and aware of the risk surrounding unconscious bias when it comes to diversity?
​
Guiding policy: Understand effective leadership behaviours
Unfortunately, the caricature of bad leadership hangs over many people's past working experiences. Employees may recall being micromanaged, their ideas being dismissed, or simply a lack of feedback on work progression.
What a lot of these actions have in common is poor communication.
"Leadership is a way of thinking, a way of acting, and most importantly, a way of communicating", quotes Simon Sinek, a guru of thought-leadership and fevered optimist.
On a practical level, leaders and managers are responsible for various things, including optimising workflow, ensuring a cohesive vision within a team, and enforcing quality control.
But as Sinek mentions above, communication and soft behavioural skills can be a vastly underrated aspect of management, depending on the company, of course.
Leaders set the tone of the working environment, so it's important that they recognise that, generally, an emerging millennial workforce values open dialogue based on empathy, clarity, and respect - all crucial cogs in creating a positive work culture.
Practical ways to address this could be setting up quarterly one-on-one discussions with team members, participating in good leadership courses, and networking with other managers to discuss communicative styles.

5) Lack of diversity
Guiding policy: Diverse Hiring
In a 2018 Accenture study, the economic value of diversity was investigated. Of 140 companies, the study found that, on average, those that focused on disability employment and inclusion had 28% higher revenue, 30% higher profit margins, and double the net income.
Unsurprisingly, hiring diverse candidates is the best way to curate a diverse workforce surrounding gender, age, race, and socioeconomic backgrounds. However, many companies, and candidates for that matter, are keen to avoid a tick-box method when it comes to hiring - candidates want to know that they are hired on merit, not a quota.
For managers, there are ways to encourage diversity throughout the role engagement process. Some examples are promoting the role on a diverse range of platforms, using inclusive language in the job description, or working with an external agency with access to a diverse network.
Guiding policy: Build or replicate an effective inclusivity model
Once you've attracted a diverse workforce, continuing the inclusivity mission is essential. The question is, how?
One way is by implementing inclusivity models that can be tracked through employee satisfaction surveys and performance reviews. An example by Include-Empower is highlighted below.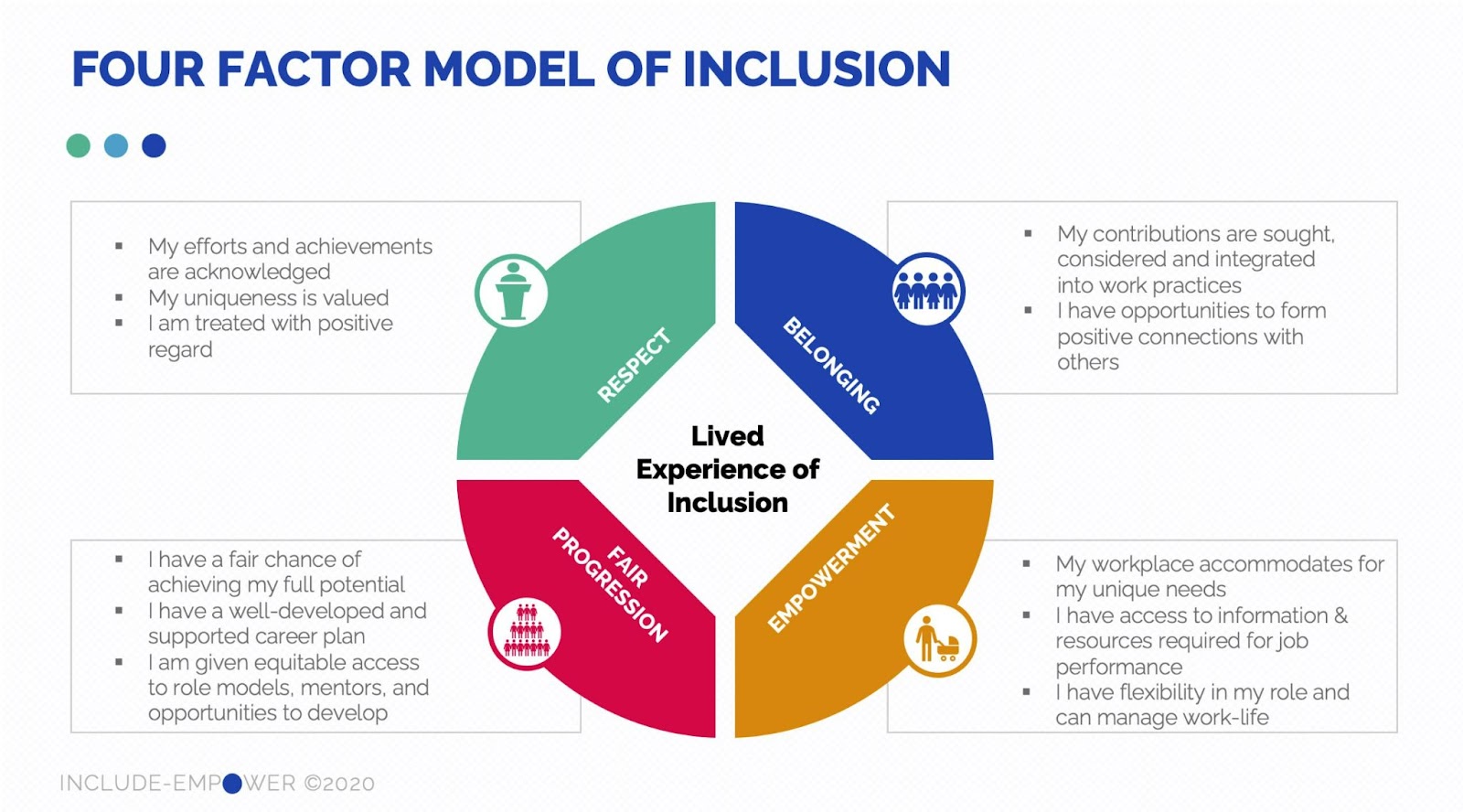 ​
These culture change models can be moulded to suit both current and forecast demographics.
For large organisations, inclusivity models may be stitched within the responsibilities of HR. Equally, data collection around this topic can be used as a tangible way to measure its impact and success.
Guiding policy: Review Current Policies
Implementing inclusive models is one thing; maintaining them is another. Employees are now wiser when it comes to icing policies surrounding maternity leave, diversity initiatives and more. Because of this, it's not enough to write a lofty and generalised internal mission statement; employees want to see these claims being actioned.
Similarly to the problem of green-washing, virtue-washing has become a significant source of frustration for employees that want to work for authentic and well-meaning businesses.
Reviewing policy statements and setting baseline targets is a good first step. Then companies can identify strategies for attracting a specific group and use metrics to track progress - 'what gets measured gets done'. But, of course, engagement strategies can differ drastically; painting over 'diversity' with one brush is totally ineffective.
The next steps...
Need more advice on how to manage these changes? Consult with the Freshminds team and discover how an interim consultant can help guide your long-term strategy.
​