​When a consultant begins a contractual role, one of the first things they'll do after being hired is sign a contract; also known as a consulting agreement.
Understanding consulting agreements is essential. For consultants, it can help make sense of what the role will involve, get the best possible terms, and avoid being taken advantage of with unfavourable conditions. For hiring companies, it ensures a fair exchange of services and costs, keeps parties accountable, and can even set the tone for future arrangements.
This article will look at what's typically involved in a consulting agreement, the different types that exist, and the specific things to look for when signing or creating consulting contracts.
​
What is a consulting agreement?
A consulting agreement is a legally binding contract between a business and a consultant (or company of consultants). It serves many different purposes, but it exists to legally define the terms of the relationship and services and should be in compliance with applicable law.
Here are some of the things a consulting agreement aims to do:
Establish the consultant's fees and ensure the consultant is paid the appropriate amount on time.

Establish what services the consultant will provide the business, and ensure the business receives the services they are paying for.

Set scope and timeline for the project.

Set rules for termination of the contract.

Include confidentiality clauses like non-disclosure and non-competitor.

Establish the legal status of the consultant as an independent contractor and not an employee.

Clarify copyright and intellectual property rules — who legally owns the materials the consultant creates.
​
A consulting agreement is different from an employment contract in several ways:
It often (but not always) defines a specific period of time with a start and end date.

The client usually has no tax obligations — it's the consultant's responsibility to handle their own taxes.

The consultant is typically not subject to the same conditions as full-time employees and will not receive things like paid time off, a probation period, and a notice period.

Consultants are paid via invoicing as opposed to a regular salary.
​
​
Different types of consulting agreements
Consulting agreements come in a number of different shapes and sizes. There is no right or wrong way; each type of contract works well in different circumstances. However, it's important for independent contractors to be able to recognise the basics a consultancy agreement should include. Here are the most common types of consulting agreements that a company may use.
Statement of work
A statement of work is essentially a document that outlines the project and all its requirements. It states the scope of the project, the services to be delivered, the price, payment schedule, conditions, timelines, and more.
Often, consulting projects are phased in their approach, and a statement of work may be broken down into smaller deliverables. The downside to statements of work is that they can sometimes be too open-ended and ambiguous and prone to scope creep.
Contractor engagement
A contractor engagement is a way of outlining all the duties and responsibilities of the consultant being hired. This includes things like their tax status — will they be an employee and be taxed according to PAYE, or be treated as an independent contractor responsible for filing their own taxes?
A contractor engagement also deals with discipline and rigour around things like deliverables, status reports, and updates. In other words, it clearly establishes what is expected of the consultant during their role.
Different types of contracts
Contract to perm or contract to hire
With a contract to perm or contract to hire, the consultant is brought on board as a contractor for a few months with the ultimate goal of hiring them full-time if everything works out. This is a risk-free way for the company to assess the consultant's fit for the company and their skills.
If it doesn't work out, it's easy for the company to simply let the contract expire and not have to worry about any additional fees or waiting periods. This kind of arrangement is also in the interest of the consultant since they can take a contract and see whether they want to go permanent without the need for a prior commitment.
Short-term contract
Often, consultants are hired on a short-term contract that may only last for a few weeks. This is common during busy periods — for example, if a company is leading up to a large product launch or upcoming merger. There are also times in the year that are regularly busy and require some outside help; for example, companies planning a digital transformation strategy may need additional researchers.
Continuous contract
A continuous contract is used when a consultant's services are needed on an ongoing basis. This sort of working relationship is fairly similar to a full-time job. However, there are usually fewer obligations from the employer or company (like the need to give holiday pay, a notice of termination, and handle tax) and higher pay for the consultant.
​
How to template a consulting agreement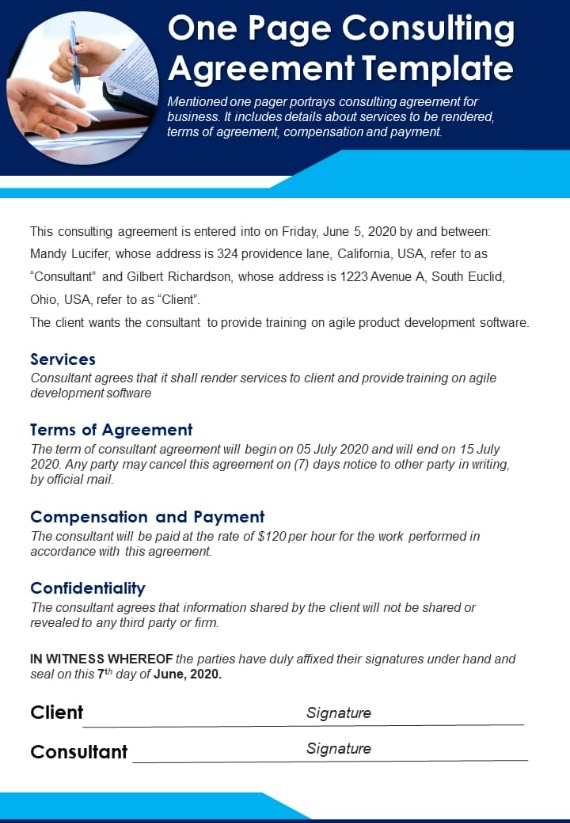 Templating a consultancy agreement may be intimidating at a first impression. However, once you know what it should include, you can begin to craft a comprehensive document.
Equally, there are a plethora of useful consulting agreement templates online, offering hyper-convenience for those unsure of the process.
You can find a consulting agreement example below by SlideTeam.net. While it may be simplified, it can provide a good starting point.
​
Types of payment structure
Fixed price contract
A fixed-price contract has one set fee for the entire project. This kind of agreement can be good for consultants as it's simple, straightforward, and doesn't penalise them for completing the project faster than expected. However, it can pose problems when things take longer than planned or new duties materialise.
Time and materials contract
In a time and materials contract, the consultant's time is tracked and paid according to an hourly rate or day rate. Any expenses you incur during the project are also paid. This method is simple and straightforward, and it's easy to plan ahead and structure time. The downside for consultants is that they'll be paid less for finishing the project earlier.
Retainer-based or subscription model
A retainer model pays a consultant a fixed amount on a regular basis (for example, daily, weekly, or monthly). It's similar to a typical salary in this sense. However, it usually doesn't take into account the additional benefits a full-time employee would receive, like a company car and pension plan. Your responsibilities and duties in a retainer contract can change from day to day.
​
What should be included in a consulting agreement?
When signing a consulting agreement, there are a number of items consultants should look for. If some information is missing, this could lead to problems down the line, and if something doesn't seem right, you should not be afraid to raise objections to the company. Don't sign a contract if you're not sure about something.
​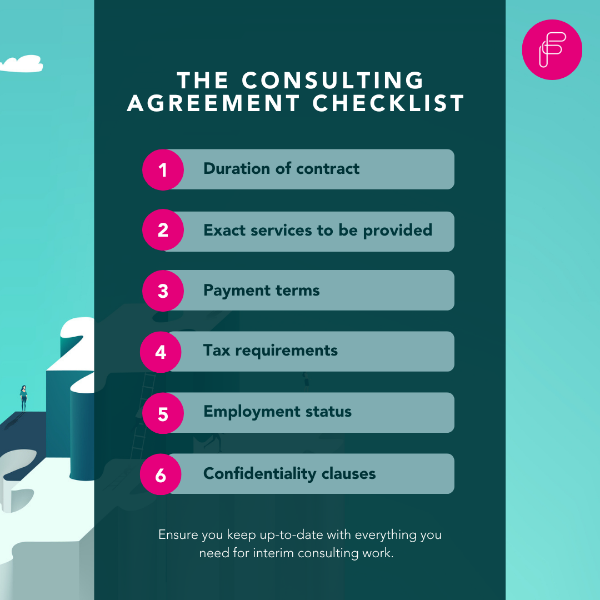 1) Duration
The contract should clearly state how long a consultant's relationship with the client will last. This might not always be defined in terms of hard dates (for example, in a continuous contract), but a fixed-term contract should include start and end dates.
The agreement should also cover a notice period — how much notice will the client need to give the consultant before terminating the contract, and how much will the consultant need to give before leaving. The contract may contain a "pay in lieu of notice" clause (PILON), which allows the client to terminate the contract with immediate effect as long as they make a payment.
​
​
​
2) Consulting services to be provided
A consulting agreement should clearly outline the services that the consultant will be expected to provide during the engagement. Of course, these duties can change over the course of the role, but the contract should at least give an overview of the work the consultant will be expected to perform.
3) Payment terms
A consulting contract should always be clear on how much you as a consultant will be paid, how often you will be paid, and the payment method that will be used.
4) Tax
It's important to clarify how tax will be handled in the consulting agreement. Typically, as a contractor, consultants will be responsible for filing and paying their own taxes independently, and the client will simply pay you according to the terms of the contract. However, some agreements stipulate that the client will be responsible for tax, as with a typical PAYE employer relationship.
It's important to confirm this arrangement when you review the contract, or you could end up experiencing some problems with tax.
5) Employment status
This is sometimes referred to as the "intention of the relationship". It essentially defines what the consultant's status will be within the client company — will they be considered an independent contractor, a temporary employee, a full-time hire, or something else? It's important to clearly define this because it impacts other areas such as tax status and legal protections.
6) Confidentiality clauses
When working with a client, consultants will often be required to agree to a confidentiality clause such as a non-disclosure agreement. This is common when you'll be working with sensitive information and prevents you from sharing any company information or details with the outside world. That's why it's important to decide what is confidential information and what is not.
Consultants may also want to clarify their intellectual property rights. In other words, can the work you do with this client be shared with anyone else, or do they own the rights to the materials you produce?
​
What premises will be used
A consulting agreement should state where your work will be carried out and what company premises and materials you will have access to. Will you be expected to work from home or be given a space in the company office?
Consulting agreements are standard procedure, and you'll encounter many of them throughout your career as a consultant. It's useful to take some time to understand these documents, so you're well prepared to assess them, avoid any pitfalls, and sign them confidently. Equally, it's important for contractors and companies to be aware, as these agreements can have a big impact on expectations surrounding key deliverables, financials, and overall performance.
At Freshminds, we bridge the gap between clients and consultants, ensuring long-term business goals are met with innovative solutions. And we'll guide both parties through the entire process, including consulting agreements. To learn more, get in touch.