​You don't need us to tell you that delivering a successful project within your company isn't easy.
It takes more than one person. Many large projects call for a project team and a manager overseeing the operation as well as other specialists to provide feedback and control scope and budget. An outside consulting firm can help upskill an in-house team if they lack the skills and experience to work on the project and ensure it's delivered successfully.
There is no one-size-fits-all formula for creating a project team. The people you choose will vary from project to project depending on who is available and what skillsets you need. But what is true is that the people you choose will set the tone for the rest of the project and will impact everything from how successful collaboration is to whether or not the project achieves its goals.
Picking a strong team gives your project a better chance of succeeding.
This article is going to cover the following topics:
What is a project team, and why is it important?

A breakdown of the ideal project team structure

How to build a successful project team in four steps
Let's get started.
What Is a Project Team, and Why Is It Important?
A project team is a group that's formed to build and deliver a specific piece of work.
Businesses usually use two types of project teams. The first is an in-house team that takes care of the business on a day-to-day basis. The second type is more specific, such as a consulting project team that helps a business with a certain project if they lack the necessary expertise.
Thanks to the rise of remote working, project teams now come in all shapes and sizes. A project team could be working from the same office or from different countries. They could be employed by the same company or made up of a group of contractors. Either way, building high-performance project teams means picking the right people to get a project from start to finish. So, what are the factors to consider when selecting project team members?
Let's ask Google—Google's People Operations, that is.
The department is in charge of project team structure at Google, and in 2015, the department revealed what they look for when they're building high-performance project teams. They listed five best considerations for project team selection:
Psychological safety: Can the team take risks without feeling insecure or embarrassed?

Dependability: Can the team count on each other to do high-quality work on time?

Structure & clarity: Are goals, roles, and execution plans for the team clear?

Meaning of work: Is the team working on something that's personally important to each of them?

Impact of work: Does the team fundamentally believe that the work they're doing matters?
And of the five best practices, Google says one of them stands out—psychological safety.
Their project team researchers found that people are reluctant to engage in behaviours that could negatively influence how other team members perceive their competence, awareness, and positivity. The meaning of the work and making an impact is also crucial when creating a project team, factors that Academy of Management Journal by Jasmine Hu says shouldn't surprise team leaders. Hu says,
"The social aspect of teams is very important because many times people are just not motivated to work for money alone...They want to have the opportunity to achieve a positive impact on the lives of others."
Putting in time and effort to pick the right project team obviously makes a difference in how successful a project will be. But where should you start?
The specs of a project and what skills are needed will be important factors in who will join the project team, but your company's organisational structure and team size will also play a role.
Let's take a closer look at what an ideal project team structure looks like.
A breakdown of the ideal project team structure
The ideal project team structure will depend on your company's size and what project you're taking on. A project team will usually fit into one of three broad organisational structures:
Project structure: When the team is being put together for a specific project.

Functional structure: When projects are siloed into separate teams (i.e., sales, marketing, product all have their own roles), and then team leaders take an organisational role instead of a project manager.

Matrix structure: When team members split their time between their project tasks and their other responsibilities within a company.
The structure that fits your company will depend on how many team members you have and what kind of projects you work on. Smaller teams, for example, will probably work within matrix structures because they have to juggle lots of different tasks at once. Larger companies, however, will have more people and therefore can have teams dedicating all of their effort to a project.
What are the major roles on a project team?
An ideal project team structure depends on the size and scope of the project a team is taking on. Major roles include project managers, decision-makers, sponsors, and of course, the team who will be working on project tasks.
While not all projects will need a director, every project requires someone who has decision making power and the ability to ultimately sign off on the work.
Role #1: The project director
The project director won't have much to do with the day-to-day management of the project, but they will be behind the scenes making all of the major decisions.
Any final approvals, budget decisions, scope discussions, or timeline changes will go directly through the project director.
Key responsibilities
Approving all changes to any significant part of the project

Signing off on deliverables and milestones

Communicating with the client about project progress
Role #2: The project manager
The project manager is in charge of making sure the project is delivered on time and on budget.
They will make sure the rest of the team is completing their tasks and meeting deadlines, as well as keeping an eye on budgets and spending. Project managers will also manage resources and reschedule team members if there is a shortage or if someone is sick.
What they do:
Planning and executing the project

Managing deadlines, milestones and task completion

Monitoring budget and expenses

Communicating with team members and filling schedule gaps if there is a shortage/sickness

Collaborating with team members and the project director throughout the project
Role #3: The project sponsor
Otherwise known as the project sponsor, this person bridges the gap between the project manager and the project director.
This person will have other projects they are working on. Still, they will be heavily involved in the project's planning, dealing with problems, and collaborating between the project manager and project director to make sure approvals and decisions are streamlined.
Key responsibilities
Making key business decisions for the project

Approving the project budget

Ensuring availability of resources

Communicating the project's goals throughout the organisation
Role #4: The project team members
Project team members are the workhorses of a project.
These are the people who will be assigned tasks and working on completing them within set deadlines. Project team members will either be employees of the company in charge of the project or contractors hired externally.
Key responsibilities
Completing assigned tasks on deadline

Contributing to overall progress by reaching goals and milestones

Collaborating with other team members to deliver the project successfully

Reporting to the project manager
​​If the order of these roles is a little hard to understand, try imagining them in a hierarchy like this: ​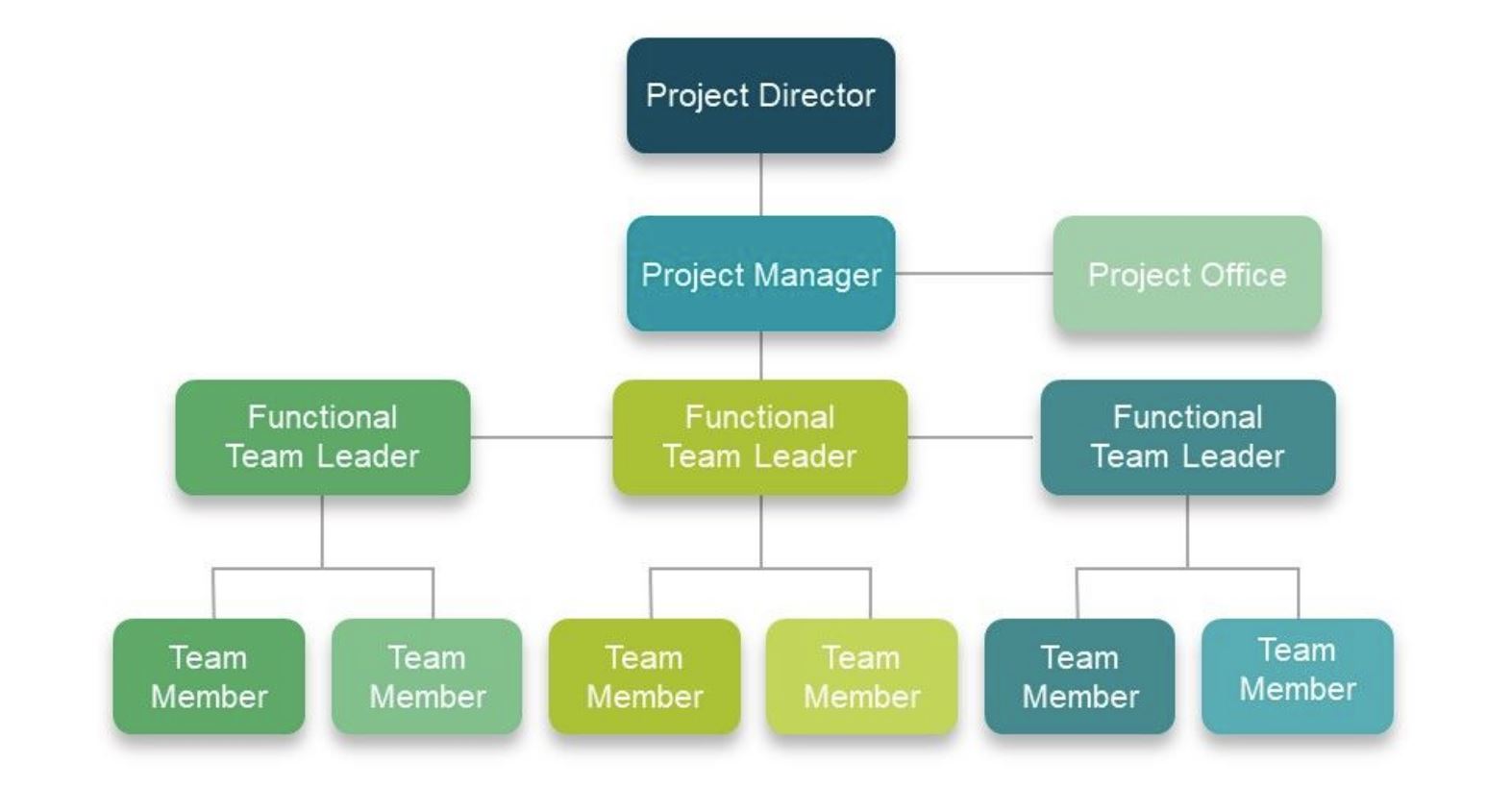 ​
Now you know what a project team is and what an ideal one looks like, let's take a deeper dive into how to build one of your own.
How to build a successful project team from scratch
Step 1: Pick the right team members
Picking the perfect project team members isn't an easy task.
Picking the right people to work on your project can mean the difference between a high performing team and one that fails to get a project delivered at all. Taking the time to assess the backgrounds of each possible team member before asking them to work on the project is a great start.
To find your ideal team members, look for people who are:
Master communicators: Project team members should communicate and collaborate with other team members easily.

Organised: So they'll stick to deadlines and know what tasks they're responsible for.

Good with the rest of the team: Team culture is crucial to delivering a successful project. Teams work better if the people working on them are motivational, positive and can help each other reach mutual project goals.

Confident (but not too confident): High performers will have the confidence to develop great ideas and attempt to solve problems. This helps take the pressure off of the project manager and can instil a sense of ownership over the project, which can be a huge motivational boost.
Once you've found the right team members, you need to get them working towards the same goals.
Step 2: Get everyone on the same page
Projects can be complex, especially if your project team doesn't know the finer details.
Make sure everyone working on the project is aligned with its goals, timelines, and expectations before any work begins. The easiest way to do this is to gather the project team together before work starts and:
Set expectations and organisational structure: Introduce the project manager, project director and the rest of the project team to each other. Here is where expectations of productivity and timeliness will be set, along with role delegations and responsibilities

Outline clear goals and milestones: Discuss the overall project scope and outline the project's major deliverables, milestones, and goals. The project team should have a clear understanding of the project's goals and expectations at the end of the meeting

Inject some transparency into the project: Everyone from the project director to the team members should have access to key project documents like scope, methodology, and milestones whenever they need. Using project management tools is an ideal way to make the project more transparent and allows the team to assess goals and timelines whenever they need
If you're still not confident that your project will be smooth sailing, it may be time to bring in the professionals.
Step 3: If you need to, bring in the professionals
Sometimes, the best way to create the right project team is to tap into outside expertise.
Hiring external resources is an ideal way to fill gaps within your company's skillset without retraining staff or hiring more employees. While some companies hire freelancers, others will choose a consultancy that can pick out a bespoke project team that perfectly aligns with their project goals.
For example, Freshminds taps into talent networks to provide companies with highly skilled project teams that can deliver successful projects without hiring new staff. Our consultants provide you with a single point of contact and assign you a dedicated Project Manager to take ownership of the logistics, quality of output and team management for an entire project.
​
And thanks to our virtual bench, businesses can pre-assess project teams and get access to large talent pools, from analysts to market specialists, to ensure a perfect fit before any work starts.
Instead of spending days putting together the perfect project team, move your business forward by tapping into our on-demand expertise today.
Let's start the conversation. Contact the team today, and we'll get back in touch within 3 working hours or a time that you have specified.
​