In an increasingly competitive market, creating an influential company culture is steadily making its way up the list of priorities for employers and job seekers alike.
From a candidate's perspective, being aware of how businesses differentiate themselves can help you decide where to grow both professionally and personally.
From a business perspective, cultivating good culture has proven time and time again a useful instrument in overall business strategy. And as Peter Drucker, renowned Austrian-American management consultant, describes it:
"Culture eats strategy for breakfast."
For millennials, more so than any other modern generation, company culture is a deciding factor in their job search.
But what is company culture, and how does it impact working life?
What Is Company Culture?
Company culture is a combination of values, objectives, attitudes and behaviours.
It should serve the purpose of aligning employees with a mission and ensuring that everyone stays focused and motivated. Very importantly, it should create a safe space where open and honest conversations can be had and where people feel valued and genuinely listened to.
67% of employees
believe their culture is positive, and 66% believe it positively impacts their work every day.
However, company cultures differ from one organisation to the next. And it can look very different depending on factors such as; role requirements, personality hires, flexible working and senior management.
Despite these differences, one thing should remain the same. An employee should feel that their needs and goals are in harmony with those of the organisation; that way, they'll be that much more inspired to contribute.
Why Is It Important for Employees?

During the last few years, the conversation has changed around work life: it's no longer about just getting a job, but about getting a job that you will love.
This goes beyond pay or the prestige of working in a particular industry or having an impressive title. Employees want to find real meaning in their work and a sense of identity in the companies that they're part of.
As such, although businesses operate under a profit motive, the demands of a new workforce and increased competition means that there needs to be a purpose beyond profit.
The rise of the millennial and gen Z workforce has emphasised company culture importance, with many influencing and shaping work within their own parameters.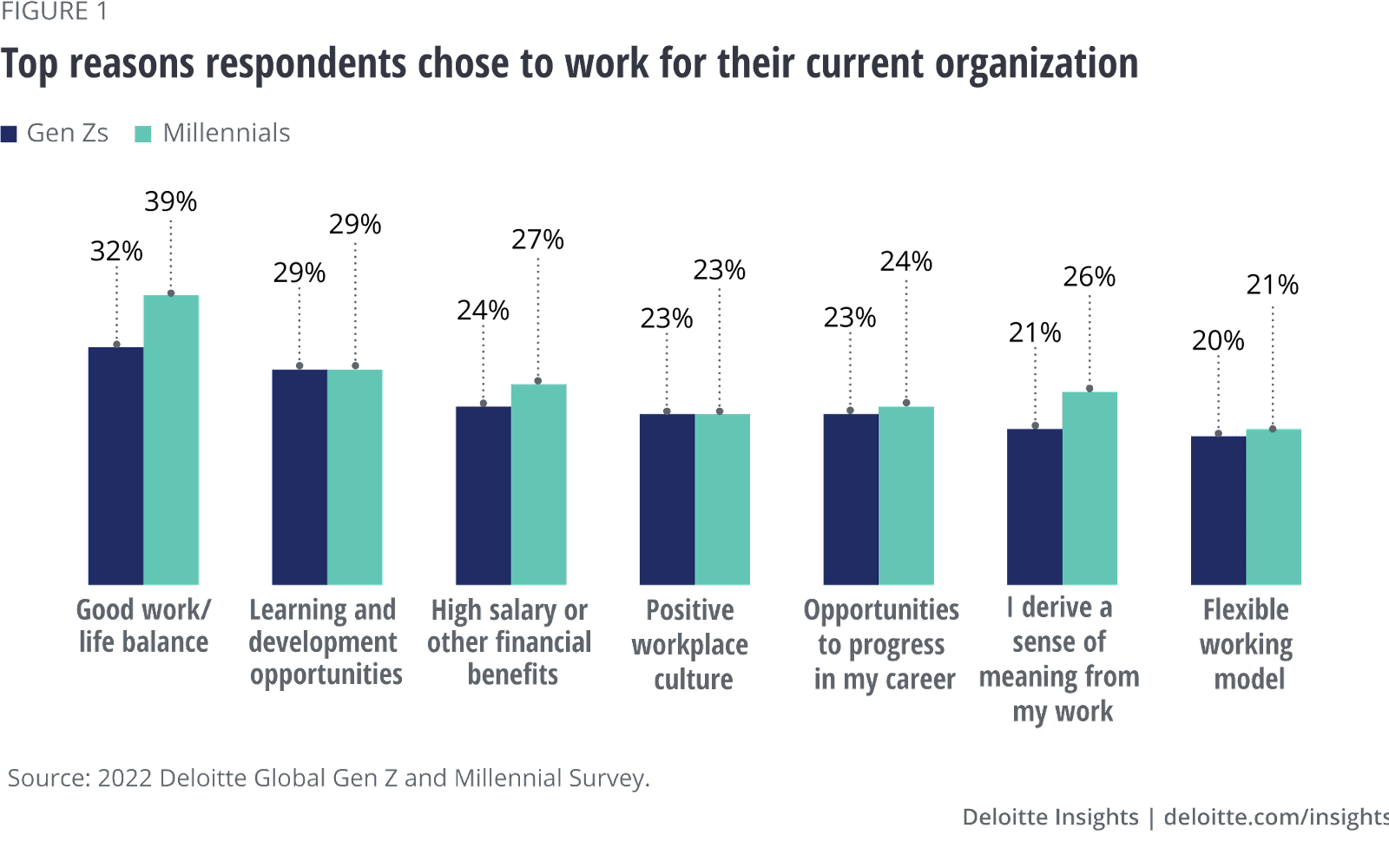 One study conducted by Deloitte in May shows the importance of working culture to newer generations. Aspects such as 'positive workplace culture, 'meaning from work', and 'learning opportunities, are all reflective of this.
But rather than treating profit and healthy culture as opposites, some of today's most influential businesses have acknowledged the deep connection between profit and purpose and have embedded this into their culture.
They have shaped their ethos to a concept that their teams strongly identify with and feel motivated by.
How to Determine Company Culture
Whether you're fresh out of university or are a more experienced candidate, company culture is a crucial factor to consider in your search for a role.
Throughout an interview process, it's just as essential to probe around culture as it is to understand the day-to-day of the job itself. Company trips, team building activities, away days or other social activities are a great way to strengthen relationships and make everyone feel appreciated, but they do not make up the culture of a company in themselves.
To find the best match, you need to go a few steps further and ask meaningful questions at the interview, for example:
Why do you like working here?

How collaborative are the different teams?

Is regular feedback encouraged?

How does the company celebrate achievements?

How does the team handle and overcome disagreement or conflict?

What learning and development opportunities are there for employees?
It doesn't matter if you have the same background as the people that you're interviewing with or like to spend your free time in the same way. It's about finding a team that is energised, focused and passionate and going into a nurturing environment that values talent, although companies can achieve these things in their distinctive ways.
In addition to doing your research and asking some key questions, listen to your instincts, and you'll be one step closer to finding the right fit.